Once the SEEDIG 2018 meeting concluded, participants were invited to fill out an evaluation survey and share their impressions, degree of satisfaction and views of how SEEDIG went and how it could improve for the future. We have compiled the results of the survey in a report, which is now available.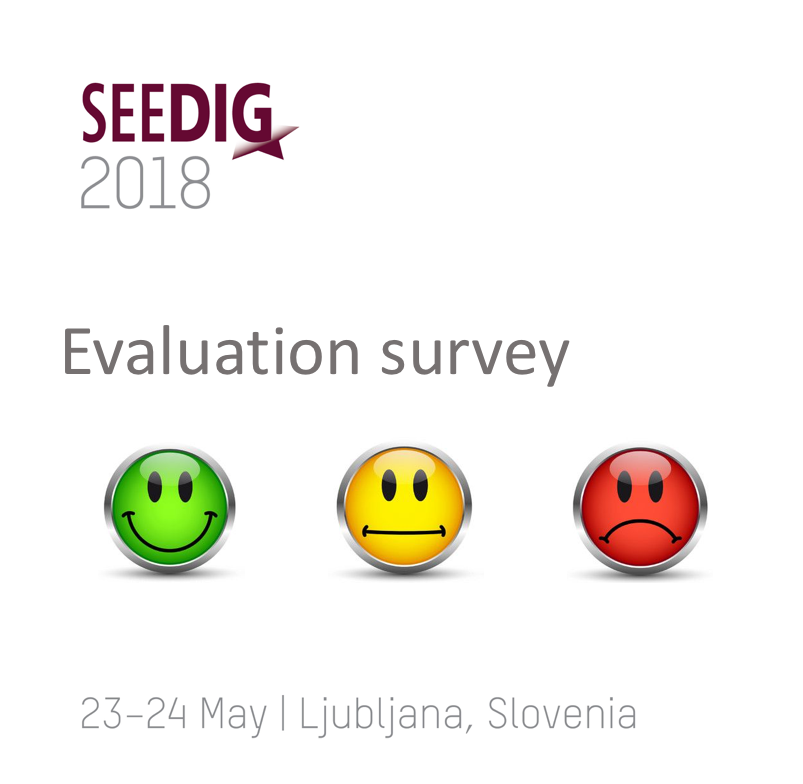 According to the majority of respondents (79%), the overall theme of Digital transformation and digital society in SEE, and the discussions held at the meeting addressed the current digital policy challenges in SEE+.
The sessions (S1) Digitalisation and digital policy in SEE: National priorities and regional cooperation, (S2) Digital skills and lifelong learning in the data economy, and (S3) Is the Internet neutral? From network neutrality to platform neutrality were all equally noted as most useful and interesting to the highest number of respondents (46%).
Next generation Internet, virtual reality, artificial intelligence, issues around privacy and data economy, as well as regional brain drain were proposed as potential future topics for SEEDIG meetings.
It was beneficial to extend the SEEDIG meeting to a full two-day event (92%) and the initiative should be continued in the future (100%), according to the overwhelming majority.
While most respondents were satisfied with the content, format and interactivity of the sessions, new ideas were proposed for the future, such as the introduction of best practice forums on thematic areas and a stronger focus on specific issues during sessions such as during the World Cafè ones.
There is a general agreement on the value of SEEDIG and the need to make it more relevant and attractive. Proposals on how to achieve this include more promotion, within and beyond the SEE+ region; more focus on attracting regional stakeholders from the governments and the private sector; and attracting regional innovators.