SEEDIG is supported through voluntary contributions (both monetary and in-kind) from private companies, public entities, and international organisations. As we are evolving as a process, we need financial sustainability.
If you wish to support SEEDIG, please contact us. Sponsorships and donations are welcome at any point.
Sponsorship opportunities
[NEW] Download our sponsorship proposal for more details on why and how to support SEEDIG.
Sponsoring SEEDIG is a valuable opportunity to increase the visibility of your organisation among the regional and global digital tech and policy communities. Your brand will be associated with a long-standing, professionally organised event that is highly valued by government representatives, decision makers, international institutions, technical community and digital policy professionals.
SEEDIG is based on the spirit of cooperation, merging strengths within and across borders to overcome individual weaknesses. Cross border cooperation is a necessary precondition for improving the image of the region abroad, strengthening regional economic ties, encouraging the activities of local business communities, and showcasing the further prospects of growth within SEE+ countries. With your support, SEEDIG will continue to stimulate dialogue and exchange of experiences contributing to the sustainable digital advancement of the region.
SEEDIG offers flexible sponsorship options, ranging from day, session and social event sponsorship packages to sponsoring our capacity building programmes, intersessional activities and special projects. We can also tailor a package to your interests and budget.
---
Youth School, 21 September 2020
The SEEDIG Youth School provides undergraduate and master students from the SEE+ region a space to learn, network, exchange views and prepare to participate in digital tech and policy processes. First, students learn online about the digital policy ecosystem and then participate in a one-day onsite Youth School and the SEEDIG annual meeting.
SEEDIG Meeting, 22–23 September 2020
At the SEEDIG meeting, delegates:
Engage with the region's and world's leading digital technology and policy experts

Discuss the most relevant digital development issues identified by stakeholders from the region

Network with their peers

Contribute to the formulation of key policy messages, relevant for the SEE+ region and shared afterwards with decision makers
Social events
SEEDIG social events are very popular and memorable. They are an effective way for participants to network and share experiences in an informal way. Social events at SEEDIG 2020 will highlight Moldovan culture and include local entertainment. 
Online participation
Online participation helps to widen involvement at SEEDIG annual meetings. It allows participants from across the region and beyond to access the meeting content through live audio and video streaming and chat.
Accessibility 
SEEDIG promotes digital inclusion and increasingly provides accessibility of its annual meetings to community members with special needs, for example by providing sign language interpretation and captions.
Fellowship Programme, 21 September 2020
The SEEDIG Fellowship is a capacity building programme dedicated to professionals interested in digital tech and policy issues. It provides a forum for learning, networking, and exchanging views and experiences on the most pressing issues at the national, regional and international levels. Fellows participate in a dedicated one-day pre-event and the SEEDIG annual meeting, where they may contribute in various roles (such as rapporteurs, moderators, etc.).
Intersessional activities
A sponsoring organisation can also commit itself to funding one or few SEEDIG intersessional activities (SEEsummary, Road Show, Ambassadors Programme, etc.). Details and amounts of sponsorship contributions will be discussed on a case-by-case basis with the SEEDIG Executive Committee.
SEEsummary

is a one of a kind initiative in the region. It is issued in a form of a monthly newsletter and provides an overview of Internet governance and digital policy developments and activities occurring in South Eastern Europe and the neighbouring area (SEE+).

SEEDIG Ambassadors

are selected on an annual basis and enhance SEEDIG's visibility and presence at the national, regional and international levels by raising awareness about SEEDIG among all stakeholder groups within and beyond the Ambassadors' native countries. They act as liaisons between SEEDIG and respective local Internet communities.

SEEDIG Road Shows

are aimed at strengthening SEEDIG's presence and visibility at the national level through fostering dialogue, cooperation and capacity development. They can take various forms, including: (a) training sessions or workshops for a particular stakeholder group (allowing a focus on specific issues and solutions sought by that group); and (b) debates on specific Internet or digital tech and policy issues of interest to the broader local communities.
Sponsorship package for SEEDIG 6
---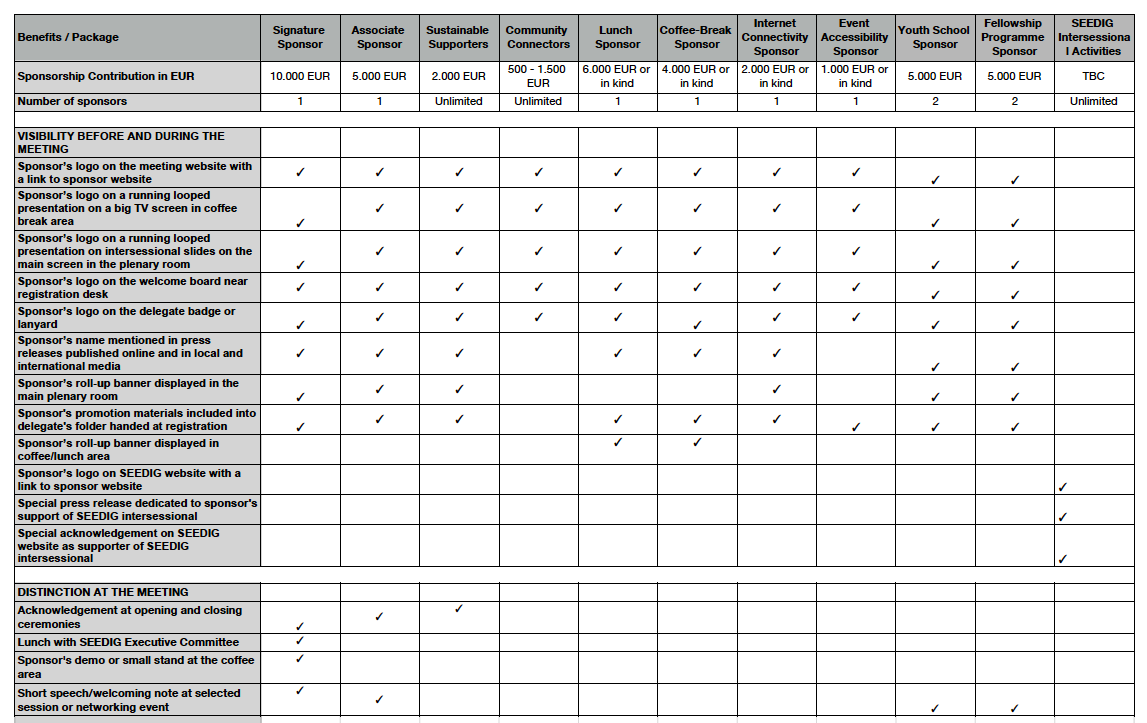 All sponsors are kindly invited and welcome to contribute to the planning process for the SEEDIG meeting, and to shaping the programme of the event. They will not be entitled, however, to by-default speaking slots, keynote addresses, etc.
---
Note: As a sub-regional IGF initiative without a formal secretariat structure, SEEDIG is managing some of its funds through the EuroDIG Association. SEEDIG-targeted funds received by the EuroDIG Association are solely used for SEEDIG-related purposes, as decided by the SEEDIG Executive Committee. This arrangement has been in force since 2017, when SEEDIG organised its first stand-alone meeing, and has been supported and accepted by international SEEDIG sponsors, including the IGF Support Association, the Internet Society, the Internet Corporation for Assigned Names and Numbers.
For SEEDIG annual meetings in particular, funds from sponsorships and donations are usually collected via a local partner in the host country. In some cases, the local sponsors decide to contribute in-kind or make payments directly to service providers.