'Can we SEE Internet governance?'  – This was the overarching theme for the SEEDIG 2016 meeting (22 April, Belgrade).  And a question we have tried to find some answers to through an Internet governance (IG) survey conducted before the meeting.
The survey was aimed to help us get a better understanding of how Internet governance, in general, and Internet governance issues and processes, in particular, are perceived by the Internet community in South Eastern Europe and the neighbouring area (SEE). It covered aspects such as: interest and participation in IG processes and organisations (motivation, challenges, opportunities), Internet-related issues considered as most pressing at national level and in SEE, degree of satisfaction with national, regional and global IG mechanisms, etc.
The survey data was reflected in a report presented at the SEEDIG meeting .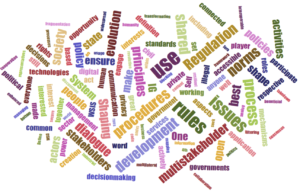 Key findings:
The most frequent words used by respondents, when asked to define Internet governance, were: use, rules, regulation, procedures, and multistakeholder.
Privacy and data protection, digital divide and cybersecurity were identified as the most challenging Internet-related issues at national level.
Forty percent (40%) of the respondents believe that there are no efficient and effective mechanisms in place at national level to address the identified Internet-related challenges. Other 40% indicated they were not sure whether such mechanisms exist.
Eighty-one percent (81%) of the respondents were of the opinion that countries in South Eastern Europe and the neighbouring area share similar Internet-related challenges and concerns; the top three such similar challenges and concerns were: digital divide, privacy and data protection, and cybersecurity.
Seventy-one percent (71%) of the respondents indicated that there is value in having regional mechanisms and processes for stakeholders in SEE to discuss/address similar Internet related challenges.
Limited resources (financial, time, etc.) and lack of/insufficient awareness were identified as the main barriers to participation in national, regional and/or global Internet governance processes and organizations.
The need for more capacity building and awareness raising on Internet governance issues was emphasized frequently throughout the survey responses.
---
---