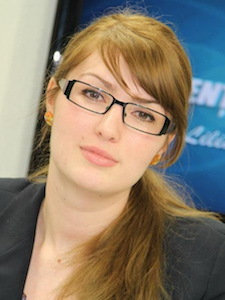 Motivation Romania Foundation | Wheelchair Users Services Coordinator
Erika Garnier is a wheelchair user and part of the Motivation Romania Foundation team.
Garnier started as a beneficiary of the services provided by the foundation, in 2010, continued as a volunteer for independent living training and in 2012 she became part of the team as a communication specialist. Now, Garnier's work focuses on developing and monitoring peer group training programs and services for wheelchair users. Garnier is also a trainer for WHO International Classification of Functioning, Disability and Health and other disability-related topics.
During her activity with Motivation Romania Foundation, she has organised several events meant to increase awareness on disability and on the abilities of people with disabilities, such as wheelchair sports demonstrations, wheelchair tennis and basketball camps, awareness seminars and conferences.