SEEDIG Annual report 2019
SEEDIG 5 annual meeting | 7–8 May 2019, Bucharest
Intersessional work | SEEDIG 2019 cycle, October 2018 – September 2019
Launched in 2015 as a regional Internet Governance Forum (IGF) initiative, SEEDIG has evolved into a one-of-a-kind initiative in South Eastern Europe and the neighouring area (SEE+), through sustained community work and valuable support from regional and international partners.
We believe that digital technologies have an important role to play in the sustainable economic and social development of South Eastern Europe and the neighbouring area.
In line with this belief, our vision is that of a healthy, sustainable and inclusive digital advancement of the region.
Our mission is to support such a digital advancement through facilitating multistakeholder dialogue and cooperation in addressing issues related to the use, evolution and governance of the Internet and other digital technologies across the region.
To fulfil our mission, we:
Provide a platform for regional dialogue and collaboration on digital policy issues, through annual meetings and intersessional activities.
Engage in capacity development activities focused on digital policy issues and targeted at SEE+ stakeholders.
Inspire and support communities throughout the region to launch national initiatives and to get involved in regional, European and international processes.
Build partnerships, in SEE+ and at international level, with entities that help us fulfil our mission.
SEEDIG activities are planned and run in a bottom-up, open, inclusive and transparent manner, by the SEEDIG community, with support from our partners.
Membership of the SEEDIG community is determined by voluntary participation in SEEDIG activities and in the dedicated public mailing list. 
The community, which includes stakeholders from all groups and various countries in the SEE+ region, is open-ended and anyone interested is welcome to join. 
Coordination of SEEDIG activities is done by an elected Executive Committee, which is also multistakeholder and regionally diverse. The committee is assisted in its work by interns, editors, web admins, and other volunteers.
SEEDIG celebrated its fifth anniversary on 7–8 May 2019, in Bucharest (Romania). The planning process for the SEEDIG 5 meeting started in October 2018 and was conducted in an open, inclusive and transparent manner, in line with:

The joint SEEDIG-EuroDIG call for issues marked the start of the planning process. It ran between October and November 2018 and resulted in 112 proposals in which community members suggested Internet governance and digital policy issues to be discussed in Bucharest.
Novelties in the SEEDIG 5 planning process
Two new elements were introduced in the planning process for SEEDIG 5: a Programme Committee and outreach and planning meetings in the host country.
Was suggested by SEEDIG community members as an alternative to the session organising teams approach (used in previous years).
Composed of 11 members, appointed by the SEEDIG Executive Committee following a call for volunteers.
Included representatives of all stakeholder groups, from different countries in the SEE+ region. SEEDIG supporting organisations were also represented.
Worked in close cooperation with the Executive Committee, in line with pre-established Guidelines.
Held weekly meetings.
For the purpose of strengthening the involvement of the local community in the planning of SEEDIG 5, a broad network of local partners was created and two meetings were held in Bucharest prior to SEEDIG 5.
An outreach meeting in November 2018
A local partners' meeting in January 2019
SEEDIG 5 kicked-off on 6 May, with the third edition of the Youth School, an Internet 101 session, and a meeting of IGF initiatives in SEE+. The main programme, of 7–8 May 2019, was structured in four tracks, designed to cater to the interests of various parts of the SEEDIG community: security and trust; infrastructure and technologies for digital innovation; digital businesses: trends, challenges and regulations; and digital technologies: enhancing accessibility and skills.  
Full programme
Recordings
Photos
Full programme
Recordings
Photos
SEEDIG 5 Programme

Shaping a trusted Internet for all
The discussions held during SEEDIG 5 were reflected in key messages, outlining main takeaways, possible goals, and proposals for future actions. 
Through wide distribution, at regional, European and international level, they are meant to help inform and influence decision-making processes within governmental entities, national parliaments, companies, and regional organisations.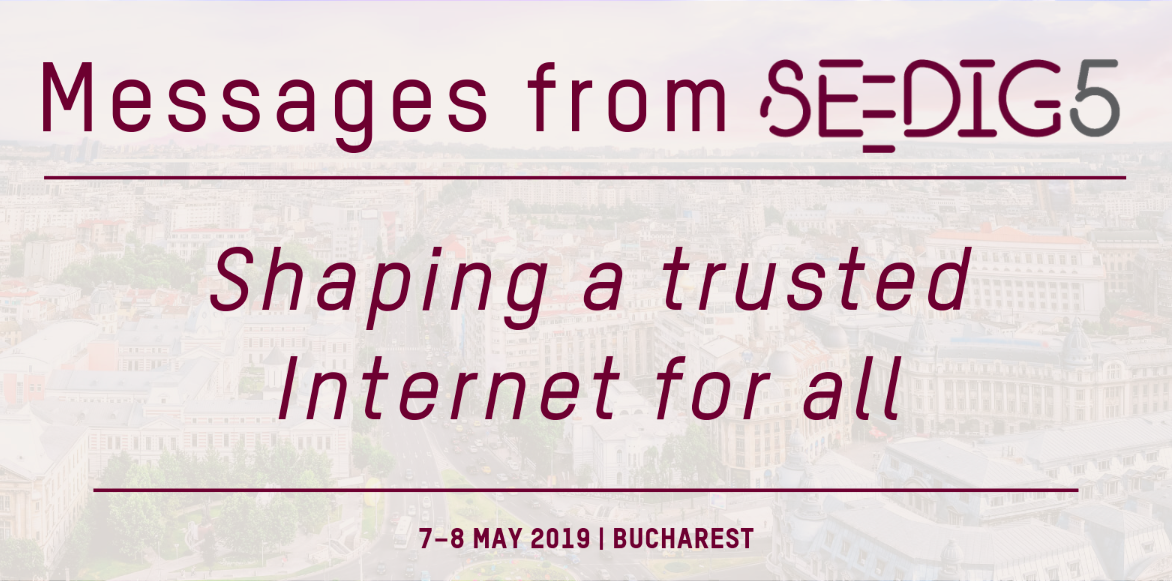 We need a secure cyberspace and stronger protection of users' rights in order to enable successful digital transformation and strengthen trust in online services and digital technologies.
Internet users need a cybersecurity mindset, which can be achieved by education and capacity building from an early age. Cybersecurity needs to become part of digital curricula in schools.
At the national level, we also need increased investments, more experts and cooperation between governments, the private sector and other stakeholders in securing cyberspace.
By cyberspace being seamlessly interconnected and borderless, cross-border cooperation is essential. Interinstitutional cooperation at the regional level needs to be strengthened and expanded across the whole region, including the Eastern Partnership countries. It is also important to enhance cooperation among stakeholders within the region at large.
The cyber dialogue at the EU level should consider bringing in regional multistakeholder processes such as SEEDIG, that can increase trust in existing processes, help exchange good practices and reach out to wider communities.
Fighting cybercrime, which is also important for cyberspace security, remains the responsibility of governments at large. However, we need a modernised international legal framework and modernised tools suitable for the digital era, as well as good cooperation among criminal justice institutions at the regional and international levels.
More attention should be paid within the region to protecting human rights online, including through proper awareness raising and education.
We have to use the momentum to build an Internet of trust while digital technologies become more pervasive and the public at large becomes more aware of the importance of privacy, personal data protection, and the actors who process personal data.
We need to develop a diversified set of protective mechanisms to ensure trust in digital technologies, by combining regulatory and self-regulatory instruments through collaborative efforts of all stakeholders.
We need to clarify the roles and responsibilities of different actors to address existing mistrust and build a trustworthy digital environment for the future.
We need collaborative efforts in the region, as well as cooperation with global actors, to develop human-centric digital technologies, such as artificial intelligence, to reflect our values and diversity.
Infrastructure and technologies for digital innovation
We need to raise awareness on how the Internet works on a technical level, and regional initiatives like SEEDIG can serve as facilitators for such activities.
Legislative and regulatory actions – in areas such as content policy and data governance – affect Internet service providers (ISPs) and can have unintended consequences for the Internet itself. All stakeholders should work together to address such challenges.  
It is important for the SEE+ countries to keep Internet traffic local to assure optimisation and reduce latency and cost, through local Internet exchange points (IXPs) and peering.
For a more secure and resilient Internet ecosystem, Network Operator Groups (NOGs) in SEE+ need better communication and collaboration among each other and with governments, in order to improve the Internet infrastructure and other essential services.
IPv4 addresses are running out and a steady deployment of IPv6 is the way forward for businesses, since the cost of doing business on IPv4 will be high. Awareness raising efforts on the topic are needed.
The deployment of 5G will facilitate many new services beneficial for the region. We should map best practices and consider them when deploying 5G infrastructure, to encourage all relevant stakeholders – especially the governments – to support its development.
Better cooperation among countries in the region is needed to enable faster deployment of 5G networks, while considering lessons learnt during past technological transitions.
Cooperation among relevant stakeholders needs to be reinforced in order to address policy and regulatory issues associated with 5G deployment.
Making 5G spectrum available, addressing small cell issues, and simplifying lengthy and complex authorisation procedures are the recommendations for regulators to facilitate 5G deployment.
Policy makers need to think of new, innovative spectrum award procedures ahead of 5G launch, in order to bring new players into the game, not just the traditional telecom operators.
Policy makers also need to create an environment that fosters investment in infrastructure, and the tech companies need to join the ecosystem and share their know-how.
Digital businesses: trends, challenges and regulations
From a regional perspective, the global trend of consolidation of Internet access through a limited number of platforms needs to be looked at more carefully, especially from a regulatory angle. Any regulation in this area needs to balance the potential benefits of consolidation (such as addressing the digital gap) with the challenges it brings in areas such as competitivity and market entry.
There is a strong ICT industry in the region, fueled by a traditionally good engineering education, but which is based largely on an outsourcing business model that is not sustainable. Policies are needed to identify and use the potential for innovation in the region and to support the development of an enabling entrepreneurial culture that allows start-ups to be less risk-averse and more open to international markets.
To support the growth of the digital economy across the region, several common challenges need to be addressed, such as the tendency of high-skilled people to leave the country, bureaucracy, economic and/or political instability, and the lack of financing opportunities. There is also a need to avoid or remove nationalistic policies such as those that impose restrictions on cross-border data flows.
When it comes to creating an enabling environment for the digital economy, putting in place legal frameworks is not enough. There is also a need for transparency and compliance with democratic principles when implementing such frameworks, to give the private sector a sense of clarity and predictability.
Businesses in SEE+ countries should strategise to build ecosystems that foster the potential of human capital and digital skills of the region. In addition, regional cross-sector cooperation is needed, to strengthen the digital business landscape in SEE+, to improve the regulatory frameworks, and to develop a strong regional digital market. SEEDIG can serve as a platform for such cooperation.
Although content creators want to be early adopters of opportunities that online platforms offer in order to reach their audience, they need to balance this need with staying up to date on practical policies of platforms, since these affect their creative businesses directly.
We need to reflect more carefully on the implications of certain government and private sector practices of policing Internet content, such as monitoring, intercepting or blocking online communications, and removal of online content. Measures need to be proportional and fit for purpose in order to avoid sweeping censoring or online surveillance.
Practical experiences from SEEDIG participants engaged in the discussion show that the current unclear deleting or blocking systems used by Internet platforms create frustration for regular users who upload online content legally, while providing no or very limited remedy procedures in cases when they feel the decision to remove or block content was biased or wrong. Internet platforms need to look more carefully into such issues.
There should be clear procedures in place to allow illegal content to be removed by or at the request of authorities, in line with democratic and rule of law principles. Having private actors decide what is illegal and what is not needs to be avoided.
Fighting misinformation through blocking or removing content is never effective. Real efforts, including financial allocations for nation-wide projects, need to be put into education on digital media and developing critical thinking skills, so that users can make informed decisions about trusting or not trusting online content and media sources. Users, companies and governments need to take responsibility regarding education on digital media, consumption and production.
Digital technologies: enhancing accessibility and skills
Policymakers need to be aware that accessibility is not only an issue for persons that fit into often rather narrow definitions of disabilities. In fact, at least one in seven inhabitants, amounting to over 30 million, in the SEE region lives with some form of disability, and we all may face disability at some stage in our lives, which can temporarily or permanently change the way we use digital technologies and access information. Therefore, digital accessibility defines the quality of our lives, promotes human rights and makes the Internet accessible for everyone.
The engagement of all relevant stakeholders is key in ensuring the development and deployment of digital technologies that are affordable and accessible for everyone. Existing international policies, standards and good practices from other countries can be tailored to fit the respective national circumstances across the region.
Persons with disabilities need to be involved in the entire process of providing digital accessibility, including designing, developing, testing and deploying accessible digital technologies. They need to be consulted in all stages of assuring accessibility and have to be involved in key activities such as testing and evaluation of accessible services and policies, to ensure they meet the needs of persons with disabilities.
Creating employment opportunities for persons with disabilities in the tech sector can facilitate the development of accessible digital technologies by design. No talent should be left behind, regardless of their disabilities.
Public procurement is a powerful tool for driving market players towards the production or provision of accessible products and services and an effective way of enforcing accessibility standards in public services, by stipulating accessibility requirements in public tenders.
Raising awareness and educating all relevant stakeholders about digital accessibility trends is key for the successful implementation of digital accessibility. In this respect, governments need to consider collaborating with industry and universities, and universities need to be encouraged to design and share their curricula on accessibility.
Legal frameworks are important, but not enough. We also need to teach accessibility at universities so that the next generations of ICT professionals have it in their DNAs.
Producing new needs could lead to new jobs which would address those needs.
The entrepreneurship culture and marketing skills in the region need to be developed in order to stimulate the growth of national and regional economies.
The gig economy is growing and governments need to understand it better and find ways to protect gig workers. They need to build sustainable and resilient systems that will address the needs of both workers and employers.
As the economy is continuously changing, people have and will continue to have multiple careers simultaneously. To address this upcoming trend, education must change so it can teach adaptability and other skills needed for the new labour market.
In 2019, SEEDIG celebrated its fifth anniversary.
To mark this milestone, the SEEDIG 5 anniversary reception held in Bucharest included a moment dedicated to recognising the valuable contribution of SEEDIG partners and community members to the success and growth of the initiative.
Recognition diplomas were offered to all SEEDIG supporting organisations, regional partners and active community members involved in SEEDIG processes for three or more years.
SEEDIG 5 registered a record number of participants (195 in total) coming from 31 countries. Overall, 90% of all participants came from SEE+, 45% were women, and 22% were youth. The infographics below uncovers more details about the SEEDIG 5.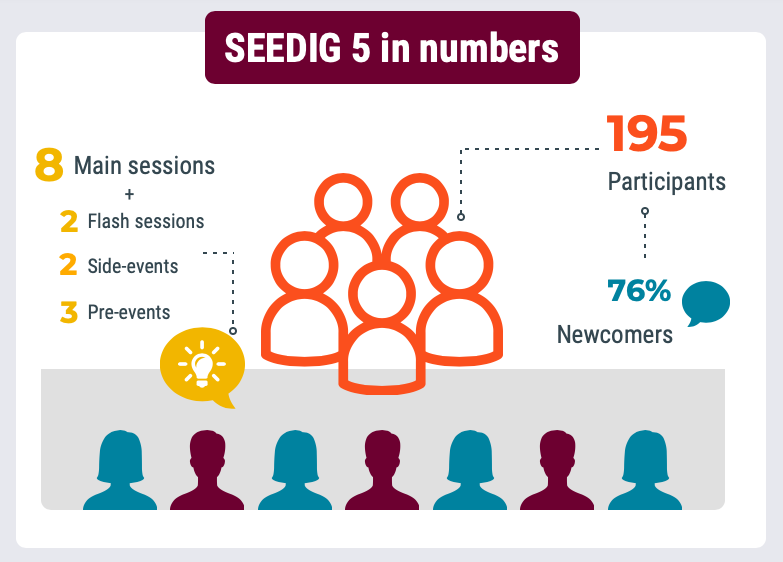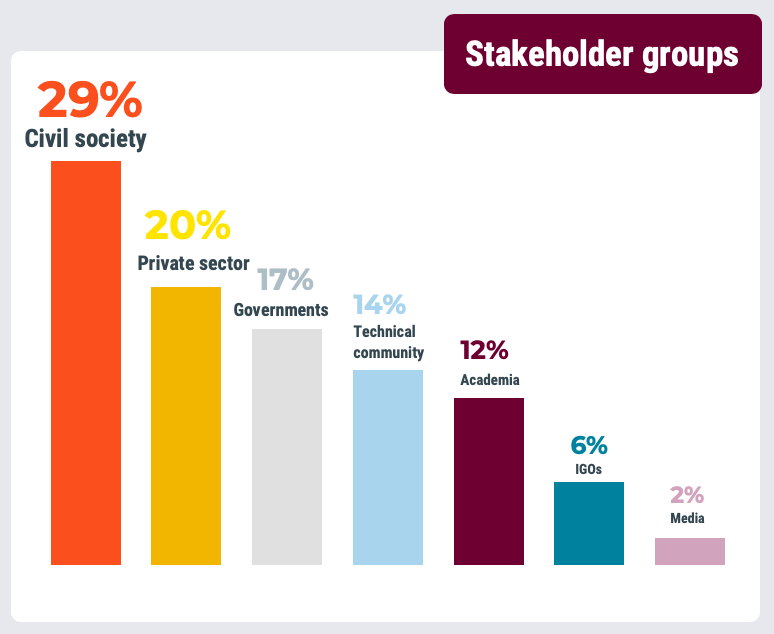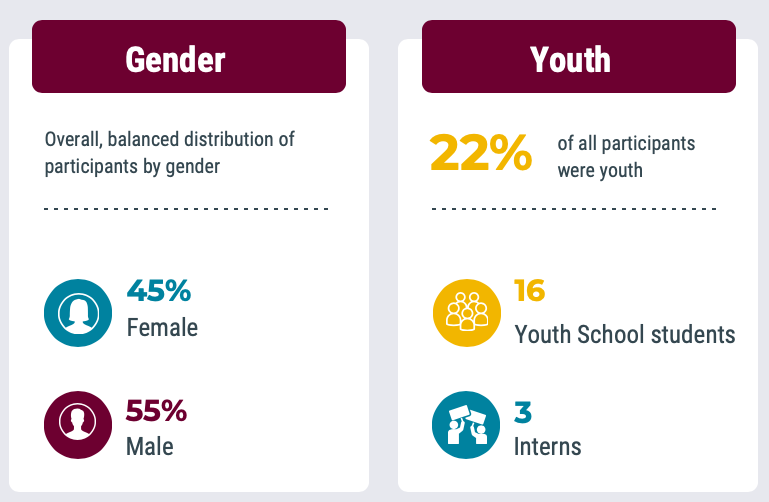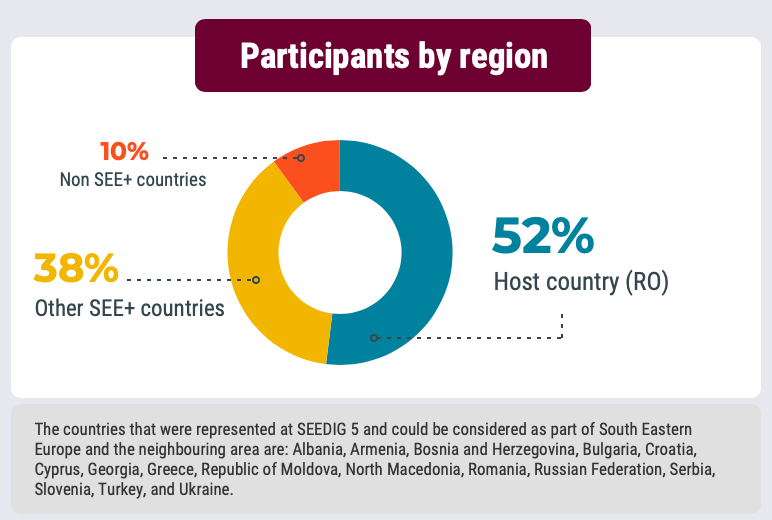 According to the majority of respondents (91%),  the discussions held at the meeting addressed the current digital policy challenges in SEE+.
The connection between cybersecurity and cybercrime; financial challenges for Internet Service Providers; overviews of data protection rules across SEE+; and blockchain use and regulation in the region were proposed as potential  topics for future SEEDIG meetings.
While most respondents were satisfied with the content, format and interactivity of the sessions, new ideas were proposed for the future, such as more exchanges of experiences and good practices, and a stronger focus on specific issues during sessions.
One key take-away from the meeting was that 'we have common challenges and could work together to elaborate regional policy guidelines'.
There was a general agreement on the value of SEEDIG and the need to make it more relevant and attractive.
Proposals on how to achieve this include more promotion, within and beyond the SEE+ region; a more active engagement of stakeholders from the governments and the private sector; and strengthened connections with other regional and national initiatives.
The SEEDIG Youth School is a capacity development initiative targeted at students originally from, or residing in SEE+. The purpose of the programme is to offer regional youth a space to learn, network, exchange ideas, and prepare to actively participate in SEEDIG and other Internet governance and digital policy processes at national, regional and international level.
In 2019, the Youth School was at its third edition.
Based on lessons learnt during the first two editions of the Youth School, the 2019 edition featured a more comprehensive programme, aimed to provide students with more opportunities to learn about Internet and digital policy and governance. Thus, the overall programme spanned four months and included an online component (run in cooperation with the Internet Society and ICANN) and an in situ one (hosted by the National University of Political Studies and Public Administration in Bucharest).
The SEEDIG Youth School was an amazing experience, which helped me learn a lot about many Internet governance-related issues. Meeting different people with all sorts of interests made me think more about the intersections of Internet governance and other fields. Moreover, we had awesome discussions and struck up lasting friendships.
To me, the SEEDIG Youth School was the beginning of a journey and a continuous learning experience in the field of Internet governance. Going through rigorous yet exciting online & onsite activities made me gain enough momentum to keep getting involved in other events. The fact that I'm still in touch with the participants and I occasionally meet other SEEDIG members in international Internet governance activities shows how connected and carrying this community is. If you want to learn more about Internet governance, make new friendships or professional connections, SEEDIG Youth School is the perfect place to kickstart.
The SEEDIG Internship Programme, ongoing since March 2017, has two main objectives:


To enhance SEEDIG's capacity development efforts, by offering students and young professionals from the region the possibility to be closely involved in SEEDIG activities.

To bring additional support to SEEDIG's core team in undertaking activities related to the planning of the annual meeting and the intersessional work.

The two interns selected in February 2018 continued their work until the end of the year. In early 2019, following a public call for application, three new interns were selected to assist with the preparations for the Bucharest meeting and with other SEEDIG activities. 
I made my first steps within SEEDIG as a participant of the Fellowship Programme in 2018. The following year I was selected for the Internship Programme and I have since been active in this community, supporting SEEDIG activities. Being an intern helped me to integrate more into SEEDIG and to understand the specifics of its activities. Continuing the work I started as an intern, I am now helping with all work related to graphic design, social media management, and SEEDIG promotion online. Happy to be a part of this much needed and important initiative in the SEE+ region. I would highly recommend the SEEDIG Internship Programme for young people who want to contribute to the digital development of our region and to get valuable first-hand experience.
SEEDIG has run the SEEsummary initiative since September 2016. The summary, published on a monthly basis, provides an overview of key Internet governance and digital policy developments and activities that occur across the SEE+ region.
Milestones in the SEEDIG 2019 cycle
New editors joining the editorial team
Creating a dedicated space on the SEEDIG website for the SEEsummary
Using Mailchimp to share monthly SEEsummary issues with the community
The SEEsummary at the end of the SEEDIG 2019 cycle
13
volunteer editors from 9 countries
40+
digital policy issues monitored
19
countries and economies covered
In April 2019, SEEDIG conducted its fourth online survey, to capture the perception of the community on aspects related to the future of work in the context of the fourth industrial revolution and the region's readiness for it.
According to more than half of the respondents, there will be a balance between jobs lost and jobs gained as a result of technological progress: 53% believe that technology will augment human performance, while 21% think that technology will replace humans in jobs.
More than half of the respondents feel confident in their ability to adapt to the changes that advanced technologies will bring to the world of work. A quarter of the respondents expects new career possibilities from such changes.
Half of the respondents 'somewhat agree' that the skills they have now will not keep them safe in the future labour market. Only a few (3%) indicated the opposite.
The majority of the respondents (55%) believe the educational system in their country is 'not at all' suitable for preparing children for the jobs of tomorrow.
Potential measures for governments to mitigate the negative effects of technological progress on employment include working together with the industry to offer upskilling and reskilling opportunities to workers (54%) and supporting new economic sectors focused on soft skills (40%).
Launched in 2019 as a new SEEDIG intersessional project, the Road Show includes events across the SEE+ region, run and planned in cooperation with local communities and SEEDIG partners and supporting organisations. 

Some of the Road Show's main objectives:
Enhancing SEEDIG's visibility at the national level, in SEE+ countries

Attracting new community members and partners and engaging them in SEEDIG activities

Helping ensure that the interests and concerns of national communities are better reflected in the overall SEEDIG process

Contributing to capacity development efforts at the national level

Helping identify new avenues for cooperation between national stakeholders on digital policy issues
Artificial intelligence: Should it be a priority for Romania? 
25 March 2019, Cluj-Napoca, Romania

In cooperation with

Agora Debate, Cluj IT, Cluj Startups, the Urban Culture Centre of Cluj-Napoca, the City Hall and Local Council of Cluj-Napoca
Infrastructures and technologies for digital innovation
28 March 2019, Tirana, Albania

In cooperation with the Ministry of Infrastructure and Energy of Albania,  Albania Internet Governance Forum, and Protik ICT Resource Center
Another new initiative launched in the 2019 cycle, the Ambassadors Programme is dedicated to enhancing SEEDIG's visibility and presence at the national, regional and international level. 
Following a call for applications launched in November 2018,  10 selected Ambassadors started their activities in February 2019.
At the regional and international level, spread the word about SEEDIG and help attract new community members, partners, sponsors, etc.

Reach out to stakeholders in their countries and engaging them in SEEDIG activities.

Act as liaisons between SEEDIG and the local Internet community, and help ensure that the voice of this community is represented in the SEEDIG process.

Propose activities that SEEDIG could run at the national and regional level, and assist in the implementation of these activities.
Ambassadors activities in 2019
SEEDIG has been inspired by the global IGF and EuroDIG and it actively contributes to these two processes. Within the SEE+ region, SEEDIG is seeking to support national and youth IGF initiatives, to the extent possible.
Initiatives that SEEDIG contributed to and/or supported in the 2019 cycle include the following:
SEEDIG is financed solely through voluntary contributions (both monetary and in-kind) from private companies, public entities, and international organisations. In 2019, the following entities supported SEEDIG.
Sponsor

Contribution
(EUR)

In-kind (catering services for day 0)

In-kind (catering services for day 0)

In-kind (venue and technical facilities for main event)

In-kind (venue and technical facilities for day 0

22735 (does not include in-kind support)
Notes
In addition to funds raised in 2019, leftovers from SEEDIG 2018 were also used in the 2019 cycle. Any surplus that may occur once all outstanding financial issues are clarified is to cover costs related to communication and outreach (web presence, printing SEEDIG materials etc.), intersessional activities, and/or the planning of SEEDIG 6.
As SEEDIG did not have its own bank account, funds were collected and managed through: the EuroDIG Support Association (which mostly collected funds from international and regional SEEDIG sponsors); the Digitas Institute (host of the SEEDIG 2018 meeting, which managed left-overs from 2018 and collected new funds from two SEEDIG 2019 sponsors) and the Association for Technology and Internet (ApTI) (local partner for the SEEDIG 2019 meeting, which collected funds from local SEEDIG 2019 sponsors). Decisions related to expenditures were made by the SEEDIG Executive Committee and executed by these entities. At the date of the publication of this report, several issues remain to be clarified with regard to the situation of funds managed by the SEEDIG 2018 host.
SEEDIG sponsors interested in receiving more details about this financial overview are invited to contact the Executive Committee.
Most SEEDIG activities were conducted on a voluntary basis, by the SEEDIG Executive Committee, interns, editors, webadmins and other community members who have contributed their time and experience to SEEDIG. The financial contributions from our sponsors and donors was used to cover costs related to the annual meeting, the capacity development programmes, and intersessional activities (including communication and outreach).
Budget item

Costs
(EUR)

1. Logistics for the Bucharest event (days 1 & 2)

Web & print event materials (design, production, printing)

Internet, webstreaming, recording

SEEDIG 5 anniversary reception

Other costs (sign language interpretation, etc.)

Venue & technical facilities

Travel & accommodation for students

Travel and accommodation for the Executive Committee and interns

Travel and accommodation costs for selected Ambassadors and SEEsummary editors

B. Intersessional activities

Communications and outreach materials

Online services fees (Mentimeter, Flickr, etc.)

23303 (does not include in-kind support)
* This budget item is incomplete. Some costs related to several outreach events (such as the Road Show in Albania and the outreach event in Brussels described above in the report) have been covered from the funds managed by the SEEDIG 2018 host and are pending further clarifications.
The following entities supported SEEDIG throughout the 2019 cycle, in particular with regard to the SEEDIG 5 meeting.