Under the overarching theme Digital transformation and digital society in SEE+ and having data as a cross-cutting topic, the SEEDIG 2018 meeting featured discussions and exchanges of experiences on a broad range of issues, from digital literacy to network and platform neutrality, and from digital rights to cybersecurity.
The event attracted over 120 in situ participants from 27 countries and all stakeholder groups. 51% of all participants were women, and 26% were youth, demonstrating that SEEDIG has been making considerable progress in gender diversity and youth participation.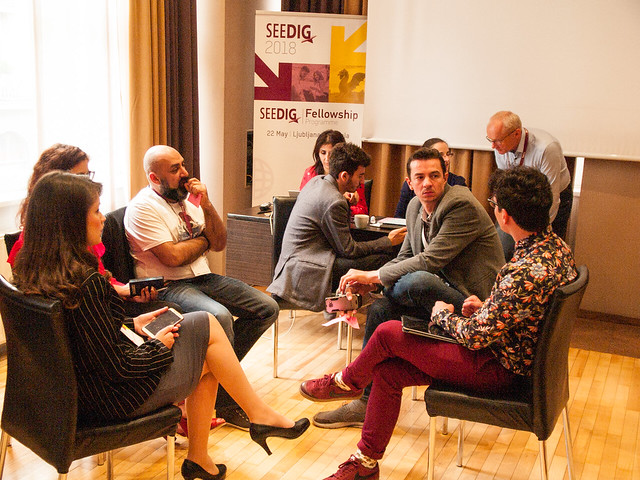 SEEDIG 2018 report
The annual report for the SEEDIG 2018 cycle covers: the SEEDIG 2018 annual meeting and the related elements (including planning and follow-up); capacity development programmes run in 2018; intersessional work carried out during the year; as well as other highlights from SEEDIG activities.​
Messages SEEDIG 2018
SEEDIG 2018 featured discussions on a broad range of issues, including digital literacy, platform neutrality, digital rights and cybersecurity. These discussions are reflected in key messages – the meeting's output – outlining main takeaways, possible goals, and proposals for future actions.
Participation stats
The SEEDIG 2018 meeting was attended by 121 participants, coming from a total of 27 countries: 16 countries that could be considered as part of South Eastern Europe and the neighbouring area (87% of all participants), and 11 countries from beyond the region (13% of all participants).
During an unconference session, the SEEDIG 2018 fellows prepare messages on topics such as security, privacy and AI.
We received 105 proposals for issues to be discussed in Ljubljana. Take a look.
Read the summary report of the online planning meetings held on 17 and 18 January 2018.