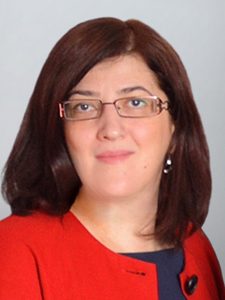 Ministry of Communications and Information Society of Romania | State Secretary
Maria-Manuela Catrina graduated from the Faculty of Sciences of the "Lucian Blaga" University in Sibiu, specializing in a Maths-Computer Science; then she followed training courses in the field of Cybernetics within the "Johannes Kepler" University of Linz (Austria) and in the field of security and international relations at the National Defence College within the "Carol I" National Defence University of Bucharest.  
She was successively school teacher of Computer Science in German at the "Samuel Brukenthal" College in Sibiu, then university assistant and lecturer within the Economic Informatics and Computer Science at the "Lucian Blaga" University of Sibiu. Between 2001 and 2004 she worked as advisor of the Prime Minister of Romania and starting with 2005 she has been parliamentary advisor within the Chamber of Deputies.
In 2013 she joined the "Ovidiu Sincai" Social Democratic Institute as Executive Director and also as member of the Directors' Board and of the Scientific Council of this prestigious social democratic think-tank. Also, since 2013 she has been Director of the "Ovidiu Sincai" European School, a project undertaken by the Institute under the aegis of the Council of Europe. In February 2017 she was appointed State Secretary in the Ministry of Communications and Informational Society.
Maria-Manuela Catrina is a member of the Social Democratic Party (PSD) since 1996, being elected as Local Councillor at the Sibiu City Council in 2000. From 2010 to 2013 she fulfilled the office of President of the Communication and Informational Society Department within the National Council of PSD. Starting from September 2015, she is President of the Social Democratic Women Organization (OFSD) – Bucharest branch, also being the coordinator of OFSD training programmes at national level. She coordinated several projects in the political field, at the level of NGOs and in the academic field. She was also the initiator and organizer of several political, economic and social events with high attendance and is the author of many specialized articles around the topic of genetic and evolution programming, political and economic topics, security and international relations.