SEEDIG activities at the 12th IGF
---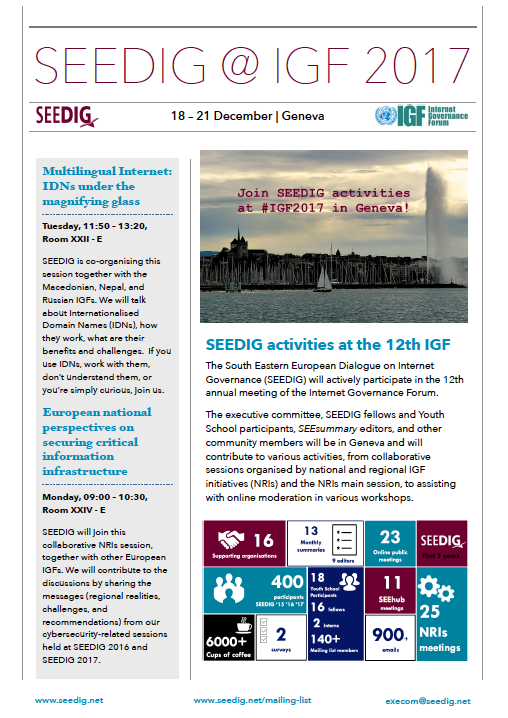 SEEDIG actively participated in the 12th annual meeting of the Internet Governance Forum (IGF), on 18–21 December, in Geneva.
The executive committee, SEEDIG fellows and Youth School participants, SEEsummary editors, and other community members  contributed to various activities, from collaborative sessions organised by national and regional IGF initiatives (NRIs) and the NRIs main session, to assisting with online moderation in various workshops.
Read the SEEDIG@IGF newsletter, to find out more.
[Update] See below an overview of our presence at IGF 2017.
SEEDIG in IGF 2017 sessions
---
Read the GIP Digital Watch reports from sessions we took part in:
Informal community meeting
---
We invited the SEEDIG community, our supporting organisations, and anyone else interested to join us for an informal gathering. Discussions revolved around:
Updates on the planning process for SEEDIG 2018 (to be held in Ljubljana, in May)

Participants were reminded about the 31 December deadline to submit proposals for issues to be discussed at SEEDIG 2018.
Brainstorming on outreach and fund-raising opportunities for SEEDIG 2018. The need to better reach out to the private sector and governments was emphasised, as well as the value of attracting more institutional support within the region.
SEEDIG plans to continue its capacity development programme in 2018 – Internship, Fellowship, and Youth School.
Some of SEEDIG's traditional supporters reiterated support for the year to come

Discussions on a draft strategic plan for SEEDIG

The executive committee is working on a draft strategic plan for the next three years of SEEDIG. The plan is structured in three broad chapters: community and network of supporters, SEEDIG process (annual meeting and intersessional activities), and institutional and financial sustainability.
The draft plan is to be made available for public comment in early 2018.

Open debate on other SEEDIG-related issues.

SEEsummary editors reiterated their commitment to continue working on the SEEsummary. They also volunteered to help with the preparations for the 2018 editions of the Youth School and Fellowship Programme.