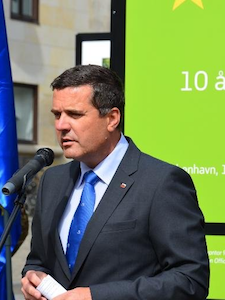 Ministry of Foreign Affairs, Slovenia | Ambassador for Digitalization & Cyber Security
Ambassador Kajzer has finished at the end of July 2018 his 5-year mandate as the Ambassador of Slovenia to the Kingdom of Denmark with the mandate to cover the whole Nordics (Iceland, Norway, Sweden and Finland). He returned to the Ministry of Foreign Affairs to hold the position as Ambassador – Coordinator for Digital Agenda.
Priority and focus of his work in the last period was to deepen political and economic cooperation and to promote business & investment cooperation with the countries of the Nordic region. Knowing the Nordic Region from his previous mandate (Finland 2009-2012) and being pro-active with the technical background and education in natural & social studies he created a strong network of political and especially business contacts in the Nordic region.  The network of business-oriented Honorary Consuls of Slovenia in the Region (Finland, Iceland, Norway, Sweden and Denmark) was expanded during his mandate. In close and operational contacts with leading Slovenian businesses in Nordic Region, he pursued priority areas (digitalisation and robotics among others) where he created many synergies among public & business sector. Export and trade volume in his mandate increased. He managed to concentrate on individual tailor-made business promotion and other projects, while keeping a big picture in place with rational approach (lowering the operational costs of the Slovenian diplomatic representation in the region).
Before taking the position as Ambassador to Denmark he worked for the Prime Minister where he coordinated the economic diplomacy and in this regard work priorities of Foreign and Economic Minister. He coordinated working visits of Prime Minister with sector-focused business delegation (to Azerbaijan and Russia) and he was engaged on behalf of PM in contacts with the different foreign interlocutors from Europe, North America and Asia. He prepared/negotiated agreement with the Foreign Minister of Croatia related to the succession issues after the former Yugoslavia.
Prior to his work for the Prime Minister he was serving as Ambassador of Slovenia to Finland and Estonia (2009-2012) where he mainly concentrated on economic diplomacy and created strong network of Finnish, Estonian and Slovenian business contacts.
In the period 2000-2009 after he returned from Cairo, Egypt (1996-2000) where he worked as an economic counsellor at the Embassy Tone co-authored Law on International Development Cooperation of Slovenia and Regulation on reporting the Official Development Aid following the OECD/DAC rules.
Ambassador Kajzer holds a Specialisation degree in International Relations and a Bachelor of Science degree in Economy from the Economic Faculty in Maribor. Prior to the study of Economy, Ambassador Kajzer took a diploma in Geodesy and  Engineering from the University of Ljubljana. He speaks fluent Slovenian and English where he has good knowledge of languages from former Yugoslavia (Serbian, Croatian) and working knowledge of German and French. He loves sports, especially skiing and cross-country skiing. He is a passionate golfer.