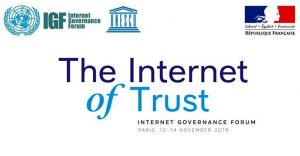 The South Eastern European Dialogue on Internet Governance (SEEDIG) will be present at the 13th annual meeting of the Internet Governance Forum (IGF), on 12–14 November 2018, in Paris. We invite you to join our activities and help us spread the word about SEEDIG.
One of our activities is a SEEDIG outreach session, to showcase our work and talk about our plans for the upcoming year. The discussion will take place on 14 November from 13:30 to 15:00 (sale XII). It is open to anyone, especially to the Internet community in South Eastern Europe and the neighbouring area (SEE+),  our partners, and our supporting organisations.
Also, we will take part in session Evolution of Internet Governance: NRIs focus on the multistakeholder approach, on 13 November between 13:30 and 12:50 (sale I).
Do you have questions for us? Would you want to work with us on specific activities? Or suggest new projects for the SEE+ region? You can drop us an e-mail at execom@seedig.net and we will arrange a 1:1 meeting during the IGF.