The Internet Corporation for Assigned Names and Numbers (ICANN), one of SEEDIG's supporting organisations, will hold its 63 meeting on 20–25 October 2018, in Barcelona. As it has been the case at previous ICANN meetings hosted in Europe, we will hold a SEEDIG outreach session during the week.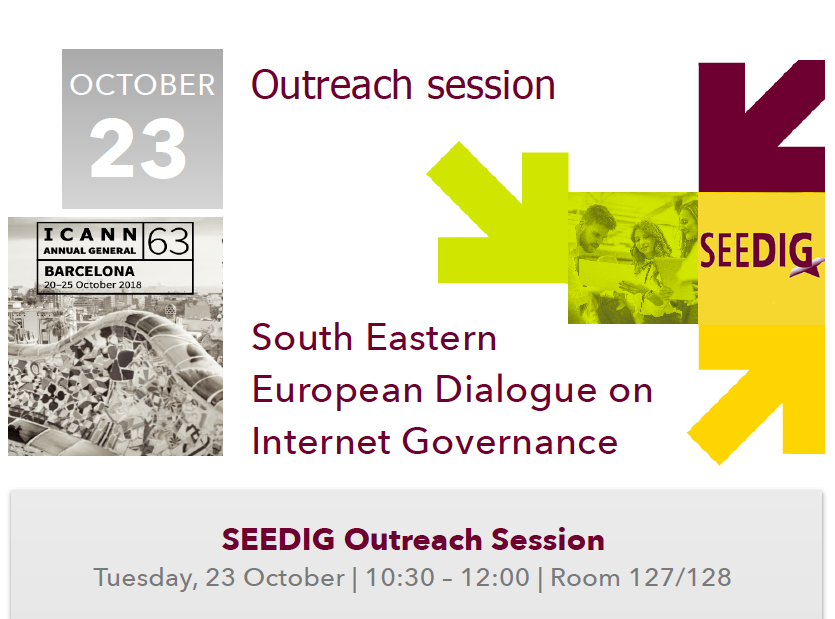 Join us on 23 October, between 10:30 and 12:00 CEST (Barcelona time), in room 127/128, for:
An overview of SEEDIG and its work over the past four years
Updates on the planning process for the SEEDIG 2019 meeting and on current and planned intersessional activities
Discussions on how SEEDIG could better contribute to the digital advancement of the SEE+ region
Brainstorming on ways and means to strengthen the SEEDIG community and expand its network of partners
Open debates on the future of SEEDIG.
The session is open to the Internet community in SEE+, to SEEDIG's partners and supporting organisations, and to anyone else interested in our work.
If you are not in Barcelona, you can join us online.