Issue no. 45 of the SEEsummary, published on 1 March 2021, by SEEDIG. This issue covers Internet governance and digital policy developments that occurred in South Eastern Europe and the neighbouring area (SEE+) in February 2021. Also included: a list of upcoming events in March.
Country contributors to this issue: Katarina Gevorgyan, Vasile Popa. Editors: Meri Baghdasaryan, Maja Calovic, Grațiela Dumitrescu, Aleksandra Ivanković, Veronica Stefan. Coordination and final editing: Olga Kyryliuk. Design: Charalampos Kyritsis.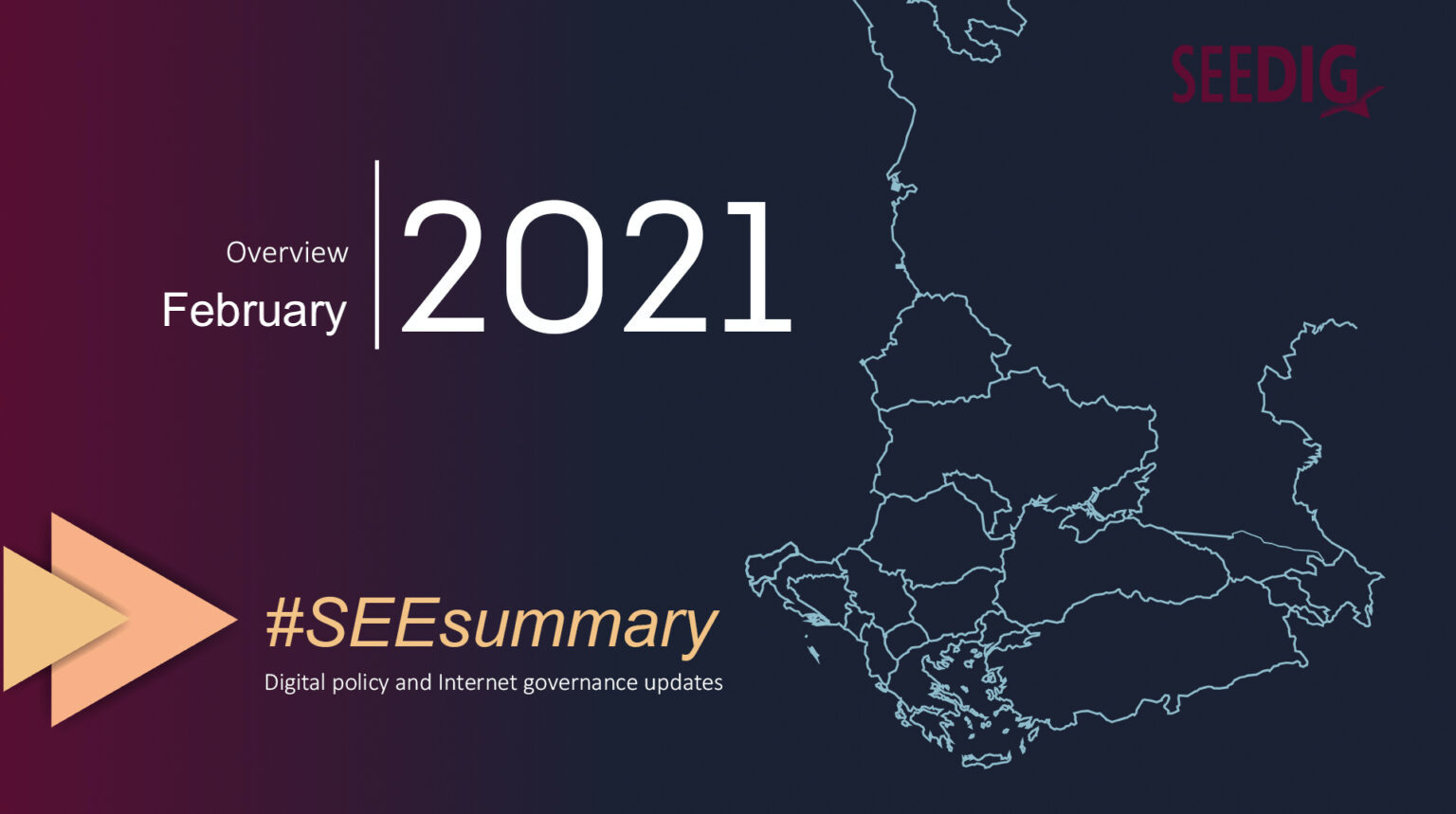 Russian parliament adopted a bill authorising the blocking of mobile services in prisons and pre-trial detention facilities. It is allegedly aimed at combatting scam calls mostly coming from such facilities and targeting elderly people, as well as avoiding pressure on witnesses, and coordinating illegal activity. According to statistical data, every fourth crime is committed using information technology. Further, the authorities plan to criminalise the recurrent illegal delivery of cell phones into the penitentiary facilities.
In early February, the Interior Ministry of Turkey announced that security forces investigated 575 social media accounts and detained 39 users allegedly posting
terrorist propaganda. The Turkish government's crackdown on social media users intensified with adopting a new law in 2020, allowing security forces to detain anyone responsible for posts suspected of being linked to terrorist organisations or spreading disinformation. As part of the new law, social media platforms are required to appoint legal representatives in the country to answer the government's demands to delete social media posts and accounts. YouTube, Facebook, Instagram, TikTok and Russian VK already complied with the requirement.
According to Balkan Investigative Reporting Network (BIRN) research, almost half of reports in Bosnian, Serbian, Montenegrin or Macedonian language to Facebook and Twitter are about hate speech, with every second post reported as hate speech remaining online. Social networks remove only 60 percent of posts reported as threatening violence, and 50 percent marked as targeted harassment. Content moderation challenges in Western Balkans result from the lack of transparency on how social media companies assess complaints and insufficient language sensitivity to distinguish harsh criticism from defamation or radical political opinions from expressions of hatred and racism or incitement to violence.
Twitter disclosed and removed 373 accounts reportedly having ties with Armenia, Iran and Russia, and breaching the platform's manipulation policies. The social network took down 35 accounts associated with the government of Armenia and targeting Azerbaijan. Twitter also removed two networks with ties to Russia that included 100 accounts and amplified narratives undermining NATO's role and targeting the United States and the European Union.
In Russia, the Coordination Center for TLD .RU/.РФ and the Russian Research Institute for the Development of Public Networks (RIPN) signed a memorandum of cooperation to enhance partnership on issues related to countering the spread of abuse, such as spam, phishing, child pornography, and botnets. The document envisages exchange of experience and information on countering abuse, establishing joint working groups, and providing consultative assistance, including efforts to involve other Russian-based registries in abuse-countering activities.
Armenia announced its plans to establish a National Cybersecurity Centre of Excellence as part of its 5-year Armenia's Digitalisation Strategy. The Centre will serve as the cybersecurity guarantor of state systems, ensuring data protection and enhancing digital literacy. The Digitalisation Strategy aims at running all state services electronically, including document circulation, electronic signatures provision, access to the services from abroad, etc. Moreover, access to a high-quality Internet connection and electronic state services in the municipal and rural areas will rise from 40 to 80 percent by 2025. Finally, all state official websites and electronic systems will become accessible for people with disabilities.
On 22 February 2021, Spotify, a Swedish audio streaming and media services provider, notified the Commissioner for Information of Public Importance and Personal Data Protection of Serbia of its decision to appoint the law firm Karanović & Partners as its data protection representative. Once again, the Commissioner invited foreign companies to comply with the Data Protection Law and appoint representatives in the country. You can find more information about international companies' compliance with the Serbian Data Protection Law in the previous issues of the SEEsummary.
On 17 February, the Russian parliament adopted the digital currencies' bill in the first reading. The bill introduces amendments to the Tax Code and stipulates an obligation of the Russian citizens, foreigners with a resident permit, permanent residents and all legal entities (including international companies' branches) disposing of digital currencies to inform national authorities about such assets and any generated income exceeding 600 000 Russian rubles (approximately EUR 6600) per year. Non-compliance will lead to fines. The law passed in the first reading, and amendments can be submitted until 18 March 2021. Reportedly, industry experts criticised the draft law with one of the concerns related to the absence of digital currency definition in the Russian Civil Code. The parliament is allegedly planning to consider respective amendments to the Civil Code in the second reading.
The parliament of Moldova voted for a 40 percent decrease (from 2,5 percent to 1,5 percent) of the so-called mobile operators' 'luxury' tax starting from 2022. Authorities introduced the tax back in 2000 in an attempt to levy high-income citizens that could afford to own a mobile phone, considered then as a luxury. By now, when every citizen of Moldova owns a mobile phone, the tax is paid by everyone and becomes redundant. It also artificially increases the price of mobile services. The money from this tax is accumulated in the Republican Fund of Population Social Support.
The 13th information technologies international olympiad 'IT-Planet 2020/21' announced its call for applications. The participants will be asked to solve case studies, develop or integrate online solutions to various economic, design, programming issues. This year the Olympiad will take place on Braim, a platform for innovative competitions that connects students, developers and startups with leading brands. Interested candidates between 16 and 27 years old are invited to submit applications by 31 March 2021.
RIPE 82 Programme Committee invites content proposals from the RIPE community for the plenary sessions, lightning talks and BoFs. Presentation proposals should focus on themes related to network engineering and operations. More details about requirements and session formats of the event can be found in the call. Proposals must be submitted using the meeting submission system by 19 March 2021.
The Cybercrime Programme Office of the Council of Europe (C-PROC) accepts applications for a position of Project Assistant for cybercrime capacity building programmes in Bucharest. Applications must be submitted in English or French using the Council of Europe online application system. Detailed information about the position and requirements can be found in the call. The deadline for applications is 29 March 2021.
Editorial note
The SEEsummary is produced on a best effort basis, by our team of volunteer editors and contributors. Each month, the editors scan local and regional media, as well as websites of public institutions and other organisations, and compile what they find to be some of the most significant digital policy developments.
The SEEsummary does not claim to be a comprehensive source of information. Despite our efforts, we may miss some things happening across the region. To help us cover as many significant developments as possible, we invite you to share with us news from your countries.