Issue no. 55 of the SEEsummary, published on 10 May 2022, by SEEDIG. This issue covers Internet governance and digital policy developments that occurred in South Eastern Europe and the neighbouring area (SEE+) in February and March of 2022. Also included: a list of upcoming events later in 2022 and available development opportunities.
Country contributors to this issue: Katarina Gevorgyan,  Vasile Popa, Maja Ćalović, Olga Kyryliuk. Editors: Bogdan Banjac, Desara Dushi, Su Sonia Herring, Charalampos Kyritsis. Coordination and final editing: Bogdan Banjac, Charalampos Kyritsis. Design: Charalampos Kyritsis.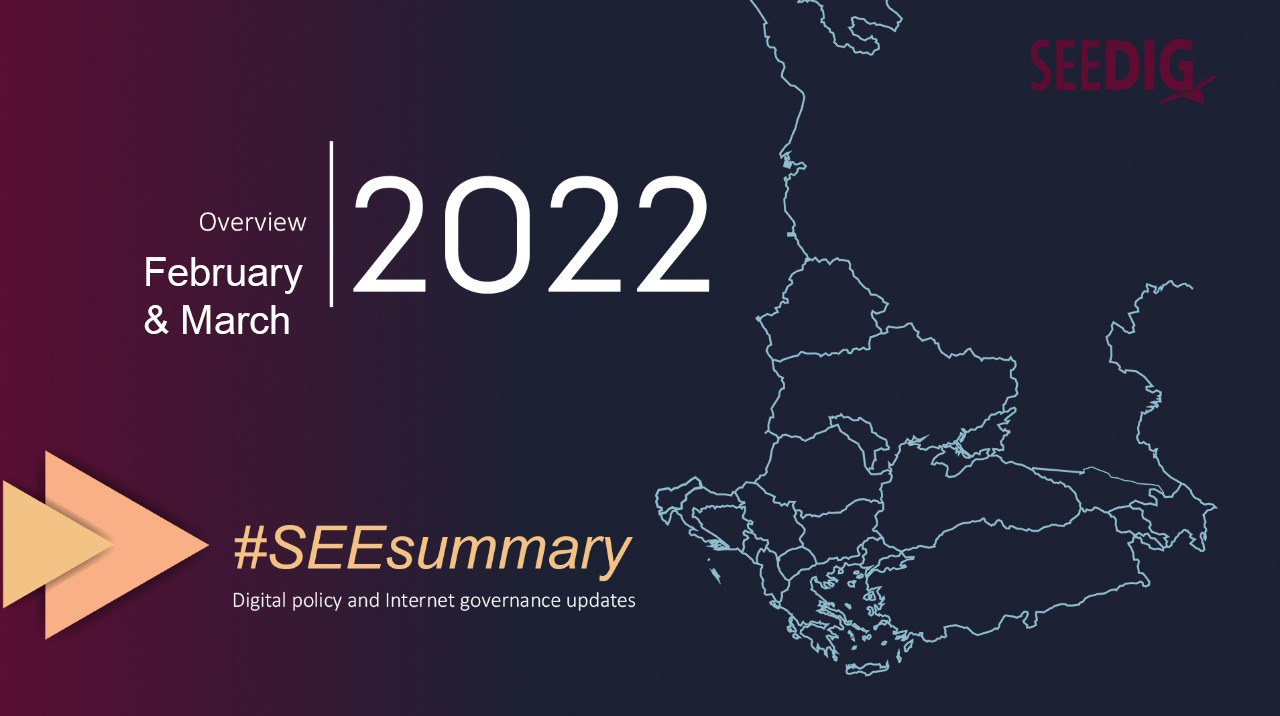 The London Internet Exchange (LINX) is disconnecting key Russian telecommunications operators Rostelekom and Megafon from international exchange. This was announced by the head of the Ukrainian Ministry of Information, Mykhailo Fedorov, then confirmed by Reuters journalist Raphael Sutter, retweeting a screenshot of a letter signed by the company's chairman, Peter Knook. According to him, he contacted the company and it responded positively to his request.
Ukraine reported that the online networks of Ukraine's defence ministry and two banks, Odashbank and Privatbank, were subjected to a distributed denial-of-service (DDoS) attack.  While the Defense Ministry's website had a notice that it was under maintenance, the Ministry tweeted that the website was under cyberattack and they were attempting to restore access. Ukraine's information security centre pointed the finger at neighbouring Russia. Cloudflare reported that it had seen no evidence of "large DDoS activity" in Ukraine against its data centres or customers there.
Google Threat Analysis Groups (TAG) detected a big number of phishing and DDOS attacks on Ukrainian websites in the last month. 
Over the past 12 months, TAG has issued hundreds of messages to Ukrainian users about the attacks, warning them that they have been the target of government-sponsored hacking, primarily from Russia, but also from Belarus and Russia.
BIRN conducted surveys and dozens of face-to-face interviews with teachers, parents and children on the use of TikTok among young children in the Balkans. According to TikTok's terms of use, the minimum age to open an account is 13. There are certain restrictions for users younger than 16, such as their account is private by default; they cannot use direct messages or host a livestream; and content they share will not be visible as suggested content for other users. Moreover, users younger than 18 cannot send or receive virtual gifts. However, sixty-nine percent of parents told BIRN that their children opened accounts before the age of 13. Moreover, twenty-five per cent of parents noticed dangerous or inappropriate content. While nearly 82 percent of surveyed teachers did not use TikTok, eighty-seven percent of them admitted they were not familiar with what their students were posting or  following online. Children's rights organisations highlighted the potential impact on children's attention span, and the importance of having a conversation with young users about staying safe online.
Serbia introduced a new service to its eGovernment portal – electronic signature in the cloud. This is a free service available to all Serbian citizens that install and activate the ConsentID mobile application, and then activate their qualified electronic certificate in the cloud on the eGovernment portal. The signature is an electronic certificate stored remotely on the servers in the State Data Center.   Tatjana Matić, Serbian Minister of Trade, Tourism and Telecommunications, welcomed the introduction of the new service, which would ease citizen's access to state services, and considered it a significant step for Serbia on its way to become a more digital society.
Azerbaijan plans to develop a national strategy on artificial intelligence. The inaugural meeting of the working group on the Fourth Industrial Revolution technologies discussed the plans on the national strategy and had presentations on IoT and Big Data. According to Oxford Insights, Azerbaijan ranks 65th in the Artificial Intelligence application index, with its neighbours Georgia and Armenia ranking 72nd 77th, correspondingly. Currently, over 15 Azerbaijani businesses provide consulting services and conduct research in several sectors of artificial intelligence. Azerbaijan is interested in using artificial intelligence in public management
RightsCon, one of the leading global events on human rights in the digital age, announced the call for registrations for the 11th annual meeting  that will take place online on 6-10 June 2022. Both paid and free tickets are available to all participants. To register, select a ticket type, login or create a new account, and fill out the registration form. A ticket gives access to a network of thousands of human rights and technology experts; Five full-days of live and recorded programming; Fireside chats with leading thinkers and experts;Interactive sessions and community-led spaces; Networking opportunities, including 1-on-1 and group chat channels; and other opportunities.
Tomorrow conference 2022 | 13-15 May 2022 | Belgrade, Serbia
CPDP 2022| 23-25 May 2022 | Brussels, Belgium
Serbian IGF | 26 May 2022 | Belgrade, Serbia
ITU Generation Connect Youth Summit | 2-4 June 2022 | Kigali, Rwanda
Spark.Me 2022 | 4-5 June 2022 | Porto Montenegro, Montenegro
Future Tense | 8-9 June 2022 | Zagreb, Croatia
Green Future: Environment, Energy & E-mobility conference | 9-10 June 2022 | Split, Croatia
ICANN74 | 13-16 June 2022 | The Hague, Netherlands
YOUthDIG | 18 – 20 June 2022 | Trieste, Italy
EuroDIG | 20 – 22 June 2022 | Trieste, Italy
Infobip Shift 2022 | 19 – 20 September | Zadar, Croatia
Editorial note
The SEEsummary is produced on a best effort basis, by our team of volunteer editors and contributors. Each month, the editors scan local and regional media, as well as websites of public institutions and other organisations, and compile what they find to be some of the most significant digital policy developments.
The SEEsummary does not claim to be a comprehensive source of information. Despite our efforts, we may miss some things happening across the region. To help us cover as many significant developments as possible, we invite you to share with us news from your countries.