December 2020 & January 2021​
Issue no. 44 of the SEEsummary, published on 2 February 2021. This issue covers Internet governance and digital policy developments that occurred in South Eastern Europe and the neighbouring area (SEE+) in December 2020 and January 2021. Also included: an overview of national IGFs and a list of upcoming events and opportunities in February.
Country contributors to this issue: Maja Calovic, Katarina Gevorgyan, Aleksandra Ivanković, Marko Paloski, Sorina Teleanu. Editors: Meri Baghdasaryan, Maja Calovic, Grațiela Dumitrescu, Aleksandra Ivanković, Neli Odishvili, Veronica Stefan. Coordination and final editing: Olga Kyryliuk. Design: Charalampos Kyritsis.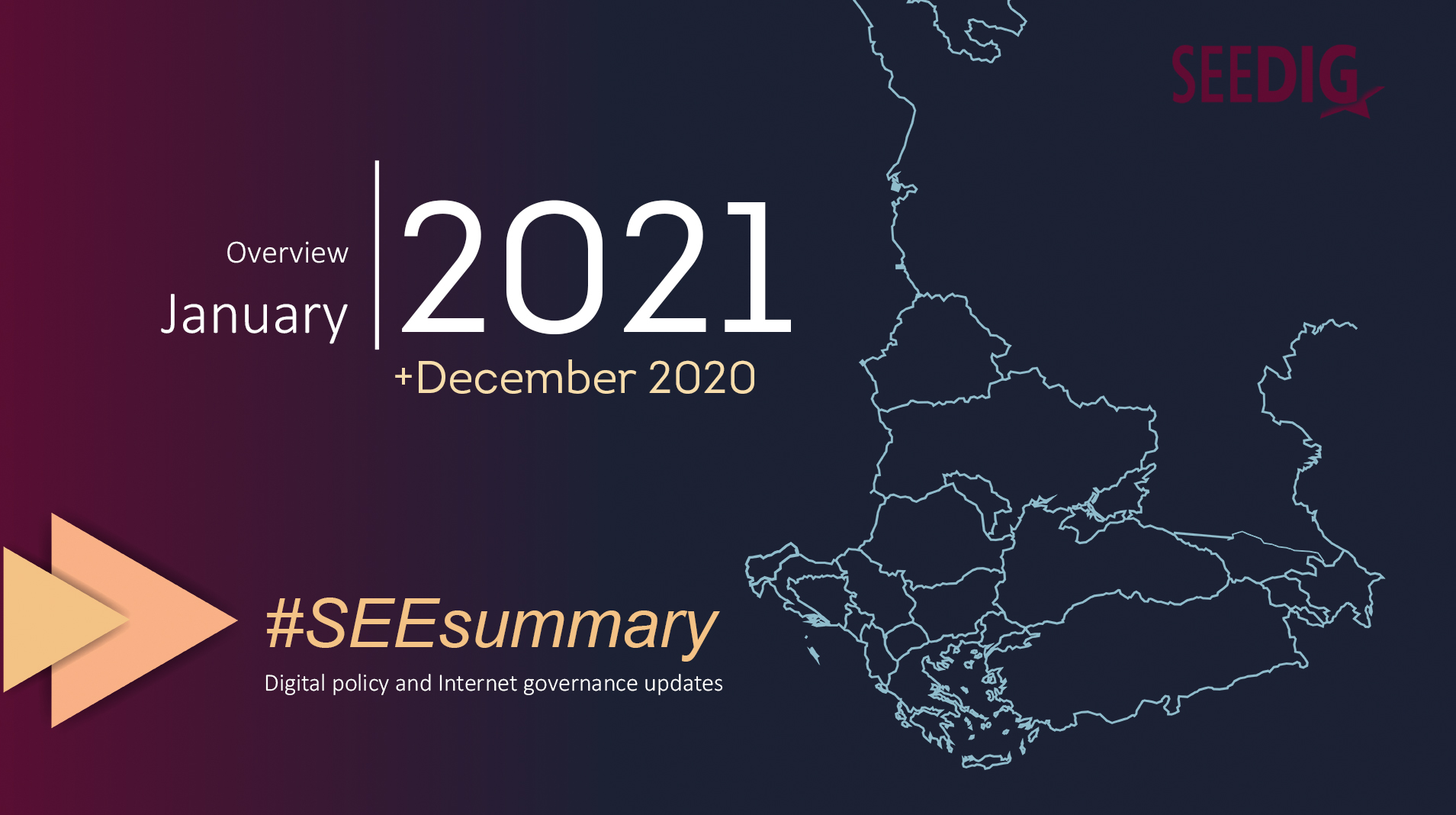 December 2020 & January 2021
Each year the European Commission releases a Women in Digital (WiD) Scoreboard as part of its Digital Economy and Society Index (DESI). The scoreboard provides an assessment of the women participation in the digital economy. Member states' performance is evaluated in three areas: Internet use, Internet user skills, and specialist skills and employment. During the 2020 assessment round, the Commission identified that just 18 percent of ICT specialists are female. At the same time, women in Bulgaria, Romania, and Greece are the least likely to be taking part in the digital economy, either through employment, use of the Internet, or skills. Croatia, Cyprus, and Slovenia are ranked just slightly higher but are still at the rating's bottom part. More detailed information and data can be found in country reports.
On 17 December 2020, the National Assembly of Serbia adopted the Law on Digital Assets to bridge this field's legal gap. Simultaneously, the parliament passed some amendments to tax regulations defining the digital assets' tax status. The new law specifies two types of digital assets – virtual currencies and digital tokens and envisages all other related services subject to licensing. The rules are technology-neutral, apply to any digital assets regardless of the underlying technology, permit digital assets' issuance and secondary trading through organised platforms. The law came into force on 29 December 2020 and will start applying six months later. For more details about the law, check the SEEsummary #42.
Meanwhile, the Ministry of Digital Transformation of Ukraine and the Stellar Development Foundation (SDF), a San Francisco based nonprofit cryptocurrency organisation, signed a Memorandum of Understanding and Cooperation to design a virtual assets ecosystem and national digital currency of Ukraine. SDF will officially launch its activities in Ukraine in August 2021. The Ministry keeps working on creating the respective legal environment for the development of virtual assets in Ukraine.
In December 2020, the Information and Communications Technologies Authority of Turkey (BTK) imposed TRY 30 million (approx.  EUR 3.10 million) fines on the largest social media companies: Twitter, Facebook, Instagram, YouTube, Periscope, and TikTok for a failure to appoint legal representatives in the country. According to digital media law, which entered into force in October 2020, all social media companies should appoint country representatives to deal with the Turkish courts' orders related to content blocking or removal. Before, the BTK already fined these companies for non-compliance with the law and gave them 30 days to fix the issue, but none of them responded to the requests (see SEEsummary #43). If the companies comply with the law within the next three months, the fine will be reduced by 75 percent. Otherwise, they will face an advertising ban and bandwidth reduction. In January 2021, the authorities moved further and imposed advertising bans on Twitter, Periscope and Pinterest. The other companies announced they are willing to abide by the new law.
On 30 December 2020, the President of Russia signed two laws allowing authorities to restrict access to social media. According to the first law, websites can be restricted or entirely blocked upon complaints from the state outlets that their accounts were treated with prejudice by Twitter, Facebook or Youtube. The law responds to Twitter, labelling several Russian media outlets' accounts as 'state-affiliated media'. The second law introduced fines for Internet providers and websites of up to 20 percent of their previous year's turnover in Russia for repeatedly failing to remove banned content.
Meanwhile, Turkey's competition authority opened an investigation against WhatsApp after a new privacy update that requires users to share more data with its parent company Facebook. According to the company's announcement, users who disagree will not be able to use the app after 8 February. The Turkish authorities call for the new rule suspension until the investigation is over and it is determined whether the new requirement breaks Turkish law. The government urged Turkish citizens to delete WhatsApp and download a locally developed messaging app called BiP, with some users shifting to Telegram and Signal.
The Romanian High Court of Cassation and Justice ruled that creating a fake social media account using as a username the name of another person and publishing real personal data allowing for that person's identification constitutes a criminal offence in the form of digital fraud. In this case, a man was sentenced to three years and eight months imprisonment for blackmail, digital fraud, and privacy breach by posting intimate images of his ex-girlfriend on a social network and opening pornography site accounts in her name.
Finally, North Macedonia authorities threatened to block the messaging app Telegram if it fails to shut down a group with more than 7000 users sharing non-consensual pornography and underage girls' images. Telegram complied with the request, but new similar groups started emerging. Police began an investigation against a few individuals involved in managing that group.
On 2-3 December 2020, Georgia hosted the sixth Internet Governance Forum – GeoIGF 2020, this time fully online. The agenda included nine plenary sessions addressing current Internet-related challenges in the country and featuring such topics as gigabit society, freedom of expression online, artificial intelligence and personal data protection, Georgian top-level domain .ge-zone challenges, information security ecosystem, media literacy, cyber readiness, COVID-19 and online learning. GeoIGF2020 was organised by Small and Medium Telecom Operators' Association of Georgia with the support of the Council of Europe, Internet Society, ICANN, RIPE NCC, the Ministry of Economy and Sustainable Development of Georgia and the National Communications Commission.
The sixth Youth IGF Turkey was held entirely online with the overall theme 'Is a different digital life possible?'. Organised with the support of ISOC-TR, ICANN, and in partnership with DiploFoundation and the Media Literacy Association, the event featured interactive and creative sessions held on Zoom, live-streamed via YouTube and Facebook. Each of three event days had a specific subtheme: who runs the Internet; remote learning and working; esports, music and technology, and a living library session with tech giants' employees from Turkey. Over 2 130 participants attended the event. All sessions are available on the forum's YouTube channel (in Turkish).
On 15 December 2020, North Macedonia organised the fourth annual Internet Governance Forum (IGF MKD). It was a one-day online event featuring an overview of the pandemic influence on 2020 Internet governance events and youth initiatives and changes brought by COVID-19 to different sectors. The participants discussed a wide variety of topics: from digitalisation in the educational process, protecting the consumers' rights online, to intellectual property rights and artificial intelligence. The recordings of the whole event can be found at IGF MKD YouTube channel.

Editorial note
The SEEsummary is produced on a best effort basis, by our team of volunteer editors and contributors. Each month, the editors scan local and regional media, as well as websites of public institutions and other organisations, and compile what they find to be some of the most significant digital policy developments.
The SEEsummary does not claim to be a comprehensive source of information. Despite our efforts, we may miss some things happening across the region. To help us cover as many significant developments as possible, we invite you to share with us news from your countries.