Issue no. 52 of the SEEsummary, published on 6 November 2021, by SEEDIG. This issue covers Internet governance and digital policy developments that occurred in South Eastern Europe and the neighbouring area (SEE+) in October 2021. Also included: a list of upcoming events in November, updates on national IGFs conducted in October and available development opportunities.
Country contributors to this issue: Maja Ćalović, Katarina Gevorgyan, Vasile Popa, Dušan Stojičević. Editors: Meri Baghdasaryan, Grațiela Dumitrescu, Olga Kyryliuk, Neli Odishvili. Coordination and final editing: Olga Kyryliuk. Design: Charalampos Kyritsis.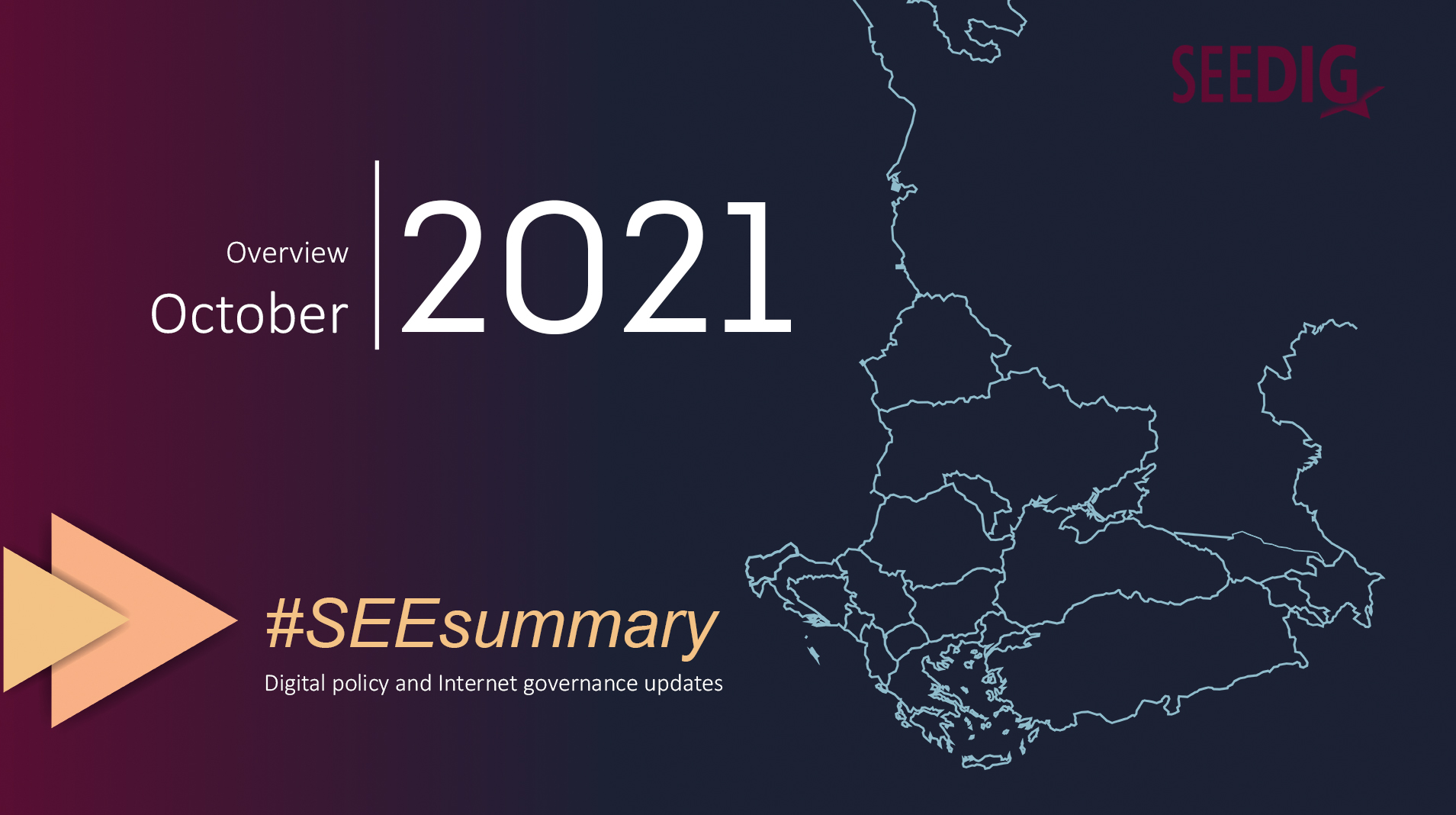 The Serbian Office for Information Technologies and eGovernment and computer software and hardware company Oracle signed a memorandum of understanding with the aim to assess the possibilities for establishing a regional data centre in Kragujevac, central Serbia. The project will support the increasing demand for cloud services in the Balkans and beyond. In particular, with the creation of a digital hub, citizens and businesses in healthcare, retail sales, banking, and other sectors that use data for innovation will benefit from higher technology efficiency, agility and security.
Russian Internet holding Mail.ru Group underwent rebranding into VK, which previously was an acronym of its social network Vkontakte and now became a single user and corporate brand for the entire company. This move aims to create an "ecosystem" of online services. The name VKontakte will remain the product brand of the social network. All VK projects will be linked to single basic services, such as VK ID, VK Pay, VK Combo, etc. Moreover, the company introduced amendments to its terms of service. Now, if individuals use any of 26 services within the VK ecosystem logging with VK ID, their personal data might be shared with other ecosystem services. Some media lawyers stress that such
interconnected services increase the adverse consequences in case of data leaks and may reveal chat, taxi trips and dating app activity history. VK claims that data sharing will occur upon the user's consent and only if a person actually uses a specific service. Allegedly, withdrawal of consent is only possible by disconnecting the service in the user's VK profile.
Facebook filed a lawsuit against Ukrainian national for allegedly scraping its website and selling the personal data of over 178 million users on hacker forums. The company claims that the data were obtained by abusing the Contact Importer function in Facebook Messenger between January 2018 and September 2019. It also states that the hacker's actions violate the company's Terms of Service. The social platform's policy officially prohibits the unlawful use of user data, automated data collection, and uploading of user data into directories without Facebook's approval. At the moment, Facebook asks for injunctions restraining the defendant from accessing the social platform and its products and preventing him from selling or distributing the scraped data, as well as damages that will be determined during the trial.
On 13 October 2021, North Macedonia became the 15th state that ratified the Council of Europe modernised Convention for the Protection of Individuals with regard to Automatic Processing of Personal Data (Convention 108+). Noteworthy, Convention 108+ will enter into force if it is ratified by all parties to the original Convention 108 (currently – 55 states), or if by 11 October 2023 the number of signatories will reach 38 states.
Bloomberg Media, a leading provider of business and financial news, and Mtel Swiss, a part of Telekom Srbija group, announced the creation of Bloomberg Adria – the first multi-platform business news network in South-Eastern Europe, with centres in Serbia, Croatia, Slovenia, Bosnia and Herzegovina and North Macedonia. Bloomberg Adria will kick off in 2022 and provide economic and financial news, analysis and data for a growing community of business decision-makers and future leaders in the region through television, print and digital media and social networks. The platform will combine local reporting with broad coverage of economies and markets around the world.
Slovenia, which currently presides over the Council of the European Union (EU), proposed strengthening the EU digital and technological sovereignty by creating a European streaming online platform similar to American Netflix. Allegedly, it could help European broadcasters to compete with US providers. According to the Slovenian suggestion, EU capitals and the European Commission need to take more action to preserve the cultural diversity of content available to Europeans, as well as promote and invest in local content.
Under Prime Minister Edi Rama, the Albanian government plans to create a Media and Information Agency (MIA) that could tighten control over media and limit freedom of expression in Albania. The Agency will direct and coordinate the work of all state authorities in the areas of information, media communication, and public affairs. The MIA's Director-General will have a status equal to that of the state minister with the power to decide over employing and terminating spokespersons of all state institutions. MIA will be responsible for all communication with the media and public on behalf of all ministries and governmental institutions. If ministries want to opt for direct communication via their spokespersons, they need first to obtain MIA's approval. The Agency will also monitor traditional and social media to measure public perception of governmental activities. Media and civil society communities in Albania expressed serious concerns as to the real reasons behind MIA's creation and called upon the EU officials to demand from the Albanian government to halt its plans for the MIA establishment given the country's EU accession plans. A similar position was supported by the Media Freedom Rapid Response group, including ARTICLE 19, European Centre for Press and Media Freedom (ECPMF), International Press Institute (IPI), OBC Transeuropa, European Federation of Journalists (EFJ) and Free Press Unlimited (FPU).
Croatia's KING ICT, an advanced ICT solutions company, announced a cybersecurity deal signed with NATO Communications and Information Agency (NCI Agency) for EUR 7.8 million, which became its largest international contract at the moment. Under the document, KING ICT will deliver and implement a security information and event management (SIEM) solution for the NCI Agency. The SIEM constitutes the core of cyberattack protection and will be used to support the services delivered by the NATO Cyber Security Centre within the NCI Agency to the Alliance. KING ICT will provide comprehensive support, including implementation of IT infrastructure, delivery services, education and warranties.
Russia and the United States of America (USA) presented to the United Nations General Assembly (UNGA) a joint resolution on the responsible behaviour of states in cyberspace. So far, the document provides for voluntary
rules but envisages the introduction of mandatory ones in the future. Noteworthy that during the drafting phase, Russia and the USA supported two different negotiation mechanisms – the Open-Ended Working Group (OEWG) and the Group of Government Experts, respectively. In the last few months, the two groups adopted two essential reports that set the framework for the responsible behaviour of states in cyberspace. The new resolution calls upon states to implement these provisions and create appropriate conditions for further work on this topic within the UN. Now, the work will continue in one group – the OEWG, whose mandate was prolonged until 2025. The UNGA First Committee will vote on the resolution in November 2021, followed by general voting in December 2021.
The Institute on Information and Telecommunication Technologies and Electronics of the National Polytechnic University of Armenia established a training and research centre on digital technologies. The centre has seven expert labs, including modular education, interdisciplinary education, open-source programming, machine learning, and cybersecurity.
Teleradio Moldova, the national public broadcaster, in collaboration with the Council of Europe project "Promoting European Standards in the Audiovisual Regulation of the Republic of Moldova", developed a digital educational platform Zuper.md for children aged between 5 and 10 years old and their parents. Accessible anywhere at any time, the platform contains multimedia products created for children and by children, including bedtime stories, lessons and games to meet their needs in information, education and entertainment. The platform also has a separate section for parents covering the issue of child's safety online and providing educational tips and thematic experts' opinions.
The Organisation for Economic Cooperation and Development (OECD) informed that 136 countries and jurisdictions representing over 90 percent of global GDP joined the October 2021 Statement on the Two-Pillar Solution to Address the Tax Challenges Arising from the Digitalisation of the Economy, which prescribes multilaterally agreed limitations on tax competition. Pillar One will ensure a fairer distribution of profits and taxing rights arising from the activities of the largest and most profitable multinational enterprises (MNEs) among their home countries and market jurisdictions. Pillar Two introduces a global minimum 15 percent tax rate for MNEs that will apply to companies with revenue above EUR 750 million starting from 2023. As a next step, countries are currently drafting the convention to eliminate all existing digital service taxes and other similar unilateral measures. The convention will be signed in 2022.
During the fifth edition of the Digital Finance, Fintech and Banking Innovation Forum, Bulgarian Deputy Finance Minister Monika Dimitrova-Beecher noted that the Ministry is involved in negotiations on the European legislative framework for digital finance, which is currently under the EU Council consideration. In Bulgaria, one of the legislative packages in the making also concerns financial digitalisation. Earlier in 2021, Bulgaria adopted the National Financial Literacy Strategy and related Action Plan for the period of 2021-2025. The Strategy was developed joitly by the Ministry of Finance and representatives of the civil society and financial sector, and has a special section on digitalisation and financial literacy.
A Slovenia-based NGO Kolektiv 99 filed a class-action lawsuit claiming EUR 27.5 million from US corporation Apple for damages incurred by Slovenian consumers due to deliberate slowing down and reducing the functionality of certain iPhone models. The Ljubljana District Court will hear the case. Consumers harmed by Apple's actions are urged to register via a dedicated form on Kolektiv 99 website. If the lawsuit is successful, consumers who bought one of the iPhones in question in Slovenia between 9 September 2014 and 28 December 2017 will be able to exercise their right to compensation subject to providing proof of payment. Noteworthy that it is the first case of such a collective action for damages in Slovenia.
The sixth Armenian Internet Governance Forum (ArmIGF) was organised by the multistakeholder Internet Governance Council (IGC) of the Republic of Armenia with the support of the Ministry of High-Tech Industry (MHTI) Internet Society NGO and Internet Society Armenia Chapter NGO. The forum was conducted in a hybrid way. It covered a broad range of topics, including Internet freedom, cybersecurity, hate speech, advantages and disadvantages of online learning, inclusion and digital technologies, e-health in Armenia, etc. Speakers touched upon the global and local issues. Panel discussions provided good opportunities for the exchange of ideas between different stakeholders. Based on the recommendations made during the IGF, the Armenian IGC will develop a package of activities and proposals, which will be submitted to the government of the Republic of Armenia for inclusion in the working programs and action plans.
On 19-20 October 2021, Moldova hosted the second Internet Governance Forum (MIGF 2021), organised by the Association "Comunitatea Internet" in a hybrid format. At the core of this year's MIGF agenda were: digital inclusion; trust, security and stability in the digital space; Internet freedom; e-learning; regulation of the ICT sector during the digital transformation period. A separate session addressed the issues of digital accessibility for people with disabilities and special needs. In addition, the Forum included special events organised jointly with Freedom House and The SecDev Foundation, Canada. During the whole event, participants could use interpretation into three working languages: Romanian, Russian, English. The MIGF was supported by international partners, including the UN IGF Secretariat, ICANN, Internet Society, RIPE NCC, SEEDIG, SecDev Foundation and national partners – Invest Moldova Agency, Academy of Economic Studies, IT consulting and security companies RTS and MUK, as well as a number of civil society organisations and state institutions.
Mozilla Festival is accepting session proposals for MozFest2022, which will take place online on 7-10 March 2022. Session topics may range from trustworthy AI to the Internet health movement, but all sessions must be participatory, accessible, and inclusive. Available session formats include social moments, discussions, workshops, etc. Interested parties should submit their proposals by 11 November 2021 via this online form.
Editorial note
The SEEsummary is produced on a best effort basis, by our team of volunteer editors and contributors. Each month, the editors scan local and regional media, as well as websites of public institutions and other organisations, and compile what they find to be some of the most significant digital policy developments.
The SEEsummary does not claim to be a comprehensive source of information. Despite our efforts, we may miss some things happening across the region. To help us cover as many significant developments as possible, we invite you to share with us news from your countries.