By Irina Buzu, alumna of SEEDIG Youth School – Class of 2020
I'd like to take this opportunity to share a couple of thoughts on my experience at the SEEDIG Youth School (YS) 2020, apocalypse considered and all.
I've been a tech enthusiast for quite a while now, but my first acquaintance with the realm of Internet governance was at SEEDIG YS this year, and it has opened a whole new range of horizons for me. It has made me more aware of all the stakeholders that are involved in the Internet ecosystem, their respective roles and responsibilities, and all the ways in which Internet governance impacts various aspects of our daily lives.
If you look at it, the Internet is the single most effective tool in human history. It allows billions of people to communicate with each other in a glimpse of an eye, on the other side of the planet, using different mediums as suitable vehicles of that information. We can search for information that other people have created and learn of distant cultures as well as obscure professional and academic disciplines. Overall, the Internet is basically a universe of data and possibilities, that makes it seem that anything is possible. Or is it? Overlooking all the benefits, how do we make sure that all these advantages and opportunities are not abused. Well, this is when Internet governance comes in handy. If Internet governance is done properly, the Internet can remain a great motor for the future of humankind and its social and economic development.
Internet governance has profoundly influenced a wide array of economic, political, and social relations between a diverse set of stakeholders. Internet governance directly relates to freedom of expression because almost all kinds of communications nowadays are mediated via the Internet. Many different fundamental rights are concerned. We have the right to privacy, for example, which is affected by how the Internet is governed because companies decide about the storage of their customers' data. Then there is also freedom of assembly. People might say, "Freedom of assembly, what does that have to do with Internet governance?", but they forget that many people now assemble online, in groups, in forums or in discussion circles. Sometimes they even contribute to acts of protest online, for example, by having a demonstration on the Internet. And there's so much more to say on this topic that a blogpost would be insufficient to cover it all.
Following my YS experience, I would like to get involved (nationally) in an education and awareness campaign with regards to the Internet ecosystem. Considering the importance of our presence in the online sphere, we also need to clearly define our responsibilities and the 'rules of the game' so that all the actors involved can exercise and benefit fully from the advantages offered by the Internet ecosystem. I believe there is a fantastic opportunity to develop such an awareness campaign in Moldova.
Internet Governance plays a crucial role in making sure the playing field stays as equal as possible for all mankind. The more people we are able to engage with this universal tool, the more we'll be able to draw from our collective intelligence.
Hope this gave you some food for thought.
Cheers!
Irina
---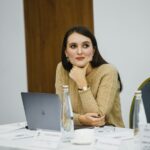 Irina is an intellectual property and technology law attorney, based in Moldova. She is currently researching AI regulation for her PhD and is engaged in various tech and digital-related projects, such as Code4Moldova and Chișinău AI. Passionate about art, film photography and Italian cinema.