By Maria Christopoulou, alumna of SEEDIG Youth School – Class of 2020
The SEEDIG Youth School experience is one of the greatest and most useful so far and it makes me really glad that I have the opportunity to share my thoughts and feelings with you.
Since I was 13 years old, I started being curious about anything that was related to the Internet. On the one hand, I grew up using these tools in my everyday life and school and I understood at an early age that it is one of the most useful and effective tools in our lives. On the other hand, there were so many cases and incidents related to fraudulent behaviours that I could not understand and made me feel a little bit scared. So, I decided to get involved in activities and courses that have to do with Internet governance and generally with the Internet ecosystem and educate myself in the proper and safer use of the Internet.
Something that always made me wonder when I was younger, is why it is so hard to find solutions to various problems related to the Internet. I thought that there must be an answer for everything, and I wanted to get it no matter what. Well, as the time goes by, I started wondering why people spend more time in reading the characteristics of a coffee machine they want to buy, for example, and less time in reading the details before accepting the cookies of a website. During the last decades, the Internet has played a major role in our lives and no one can imagine even a moment without it. It is being used even while somebody is in the bathroom. So, another question that arises is how somebody cannot pay attention and not educate him/herself about proper Internet use, when almost all activities are revolving around it and thus structuring a wonderful but 'scary' web due to lack of personal digital diligence.
In my attempt to obtain a better and deeper understanding of the above functions of the Internet, I decided to search for relevant forums. However, I found something more interesting than a forum, the SEEDIG Youth School. During these months, as a member of the Youth School, I had the opportunity to understand what actually Internet governance means and what its parts are. The way the Internet is being governed via multiple stakeholder groups reveals its complexity, but the goal to regulate and protect human and fundamental rights never changes. More specifically, human rights such as privacy and data protection, freedom of expression, democracy, equality, and many other things. It is really hard to include all the information in a small text, but I fully recommend you to join the SEEDIG community for further material. It is, undoubtedly, great food for thought.
Upon the completion of my journey in the SEEDIG Youth School, I would like to educate myself more, because Internet governance is based on the continuous evolution of the Internet and constant involvement is required. Then, I would love to volunteer and be part of initiatives to raise awareness and motivate other people to join the community, not only in my country Greece, but all over Europe. Finally, one of the main topics at university in my faculty is 'Internet Governance Lab'. All the information provided by Youth School can be proven to be particularly useful for me to raise my classmates' awareness too.
Together we can change our world and create a brighter digital future. The more people joining, the better the chances for radical changes.
---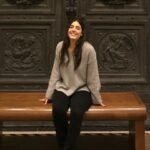 Maria is currently studying Economics in the National and Kapodistrian University of Athens, Greece, while remaining an enthusiast for digital-related matters and Internet governance. She is a member of the Hellenic Safer Internet Center as a youth panellist. Eager for literature, movies and music and anything else that carries her away and becomes her beacon of inspiration.