By Zülal Erdoğan, alumna of SEEDIG Youth School – Class of 2020
Effective and meaningful participation starts with knowledge. In order to allow more people to bring their contribution to any field, creating appropriate capacity building opportunities is crucial. The SEEDIG Youth School (YS) provides a wonderful path for young people who want to engage in the Internet governance ecosystem and shape the future of the Internet. Before the YS, I was overwhelmed by the vast amount of stakeholders, their respective roles, and the many issues around Internet governance. Although it is a very open ecosystem which encourages youth participation, it was not that easy for me to find where to begin.
The format of the Youth School has successfully combined everything that I could wish from online learning. The four-month-long journey was very well-thought-through and managed. It provided us a content-rich experience full of different elements like e-learning, discussion forum, online meetings, debate, assignments and guest speakers.
For me, the SEEDIG Youth School proved that efficient online education is possible and maybe even better! While I was tired of trying hard to focus on 2-hours-long monologues of my professors at the university to not to miss anything, the YS enabled us to learn well-curated content at our own pace and dive deeper into the new concepts that we've learned with a multinational and multidisciplinary team of participants.
Besides successfully covering the basic knowledge and terminology of Internet governance, the programme also encouraged us to develop and share ideas about the most pressing issues around it. Inspired by our debate about facial recognition technologies, I decided to write my paper about the ECHR case law on mass surveillance for a class that I have at the university.
Building upon the knowledge that I acquired during the YS, I will continue to discover and learn more about the issues at the intersection of the Internet, society and law. As the next step, I would like to raise awareness about digital rights in my local community and boost the youth participation in the Internet-related policymaking processes. With great excitement, I recently joined the organising committee of 6. Youth IGF Turkey. Looking forward to learn, collaborate and share more!
Huge thanks again to all who became a part of this learning journey and made it possible, especially to the amazing SEEDIG team.
Hopefully our paths will cross again soon!
Zülal
---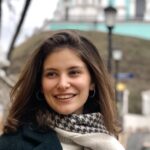 Zülal is a senior law student at Galatasaray University in Turkey. She co-founded the Istanbul Legal Hackers community of legal innovation. Her interests include human rights, technology, entrepreneurship and their intersection. Currently, she is looking for ways in which human-centered design and technology can facilitate access to justice.