Issue no. 36 of the SEEsummary, published on 31 March 2020. This issue covers Internet governance and digital policy developments that occurred in South Eastern Europe and the neighbouring area (SEE+) in March 2020. Also included: a list of free online courses and tools for remote work, and an overview of upcoming capacity development and other opportunities for SEE+ stakeholders.
Contributors to this issue: Meri Baghdasaryan, Maja Ćalović, Grațiela Dumitrescu, Katarina Gevorgyan, Aleksandra Ivanković, Olga Kyryliuk, Neli Odishvili, Oliana Sula, Veronica Ștefan. Coordination: Olga Kyryliuk. Design : Charalampos Kyritsis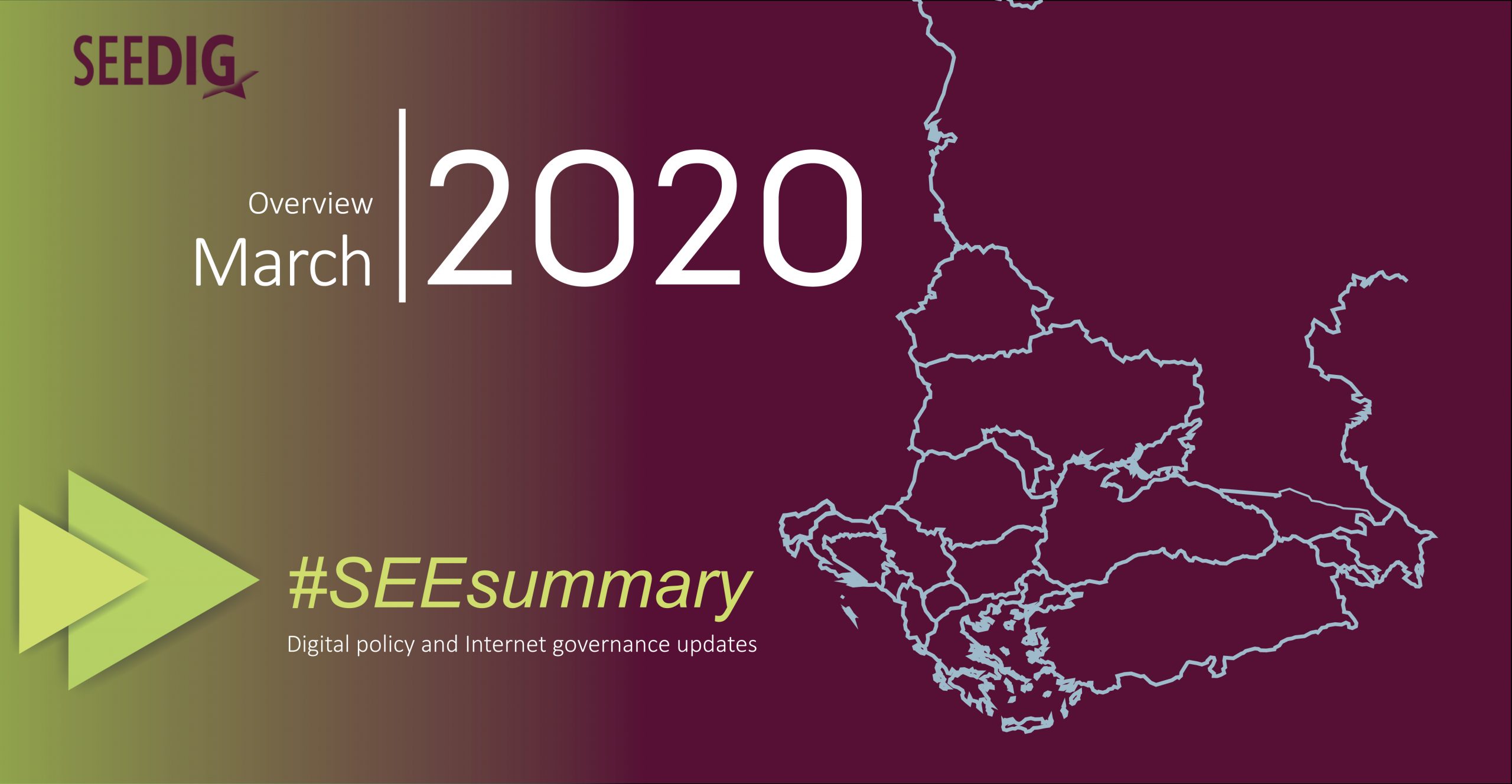 The
Slovenian
 government has
postponed
the approval of the strategy on allocation of 5G frequencies drafted by the Agency for Communications Networks and Services (AKOS). The process is frozen until the 5G technology effects on humans and environment will be explored.
Slovenia
takes a strong stand when it comes to health protection and environmental preservation. It is the first country in the world that constitutionally protected water as a human right and a public good. The
Minister of Public Administration of Slovenia, Mr Rudi Medved
, has argued that  issues related to the harmfulness of 5G technology are not fully explored even at the global level. Meanwhile, the Slovenian government is searching for the balance between safeguarding human health and nature, and ensuring technological progress and advancement.
The Communication Regulatory Agency (CRA) of
Bosnia and Herzegovina
called for
rational use of the Internet during the COVID-19 pandemic as there is an evident increase of Internet traffic usage. According to the CRA's recommendations, video conferencing and streaming should be avoided, online education should be done preferably via text messaging and document sharing, and online lectures should not last longer than 10 or 15 minutes. Currently, the Internet functions without any disruptions, but citizens are asked to follow recommendations in order to prevent any possible difficulties.
Discussions between the Slovenian government and UNESCO regarding the opening of an artificial intelligence (AI) research centre started in 2018. Two years later, in March 2020, the two parties signed an official agreement establishing the International Artificial Intelligence Research Centre (IRCAI) with location in Ljubljana. IRCAI is the first global AI centre created under the patronage of UNESCO. The purpose of the centre is to establish an open and transparent environment for AI-related research and discussions, as well as to provide public and political support in the preparation of respective guidelines and action plans worldwide. IRCAI will have a global reach and will consult all stakeholders on systemic and strategic solutions for the AI introduction in different areas. It will support the establishment of assisting research centres in other countries, the development of training programmes, the fostering of global awareness, and setting up of networks for research and knowledge exchange.
Ukraine announced its plans to pilot an eDelivery project based on using electronic invoices. The project will be conducted by Ukrainian and Polish companies and will allow both parties to save costs and reduce administrative burden and environmental impact. Feedback and recommendations from participating companies will be collected to further improve and implement the eDelivery project. The companies interested to participate in the pilot are invited to submit an online form. Participation provides the following benefits: testing new technical solution for free; getting familiar with the European standards of electronic invoicing; obtaining new knowledge on the exchange of electronic documents with the EU and the Eastern Partnership countries; and promoting the participating companies as innovative and digital. A common legal and technological framework will allow both countries' businesses to significantly simplify export/import operations and speed up border crossings.
On 4 March 2020, the National Assembly of Serbia ratified the Protocol amending the Convention 108 for the Protection of Individuals regarding the Processing of Personal Data. The amending protocol, colloquially referred to as the Convention 108+, was adopted in May 2018 with the aim to better address emerging privacy challenges related to the use of new information and communication technologies and to strengthen the implementation of the Convention adopted in 1981. Changes introduced in 2018 include new obligations for data controllers (e.g. guaranteeing the transparency of data processing and notifying of security breaches) and rights for data subjects (e.g. the right to obtain knowledge of the reasoning underlying the data procession, and the right not to be subject to a decision based solely on automated processing, without taking the data subject's views into consideration).
Human rights advocates around the SEE+ region are concerned about the implications that COVID-19 emergency measures entail for human rights and freedoms. Countries all over the region show a certain degree of similarity when it comes to crisis response. For instance, Armenia, Moldova and Romania have derogated from the provisions of the European Convention on Human Rights to justify suspension of certain civil rights during the coronavirus state of emergency. In Serbia, President Aleksandar Vucic was accused of declaring a state of emergency without a strong constitutional basis. The country also imposed surveillance and phone tracking measures to limit freedom of movement. In its turn, Albania announced harsh penalties for those who ignore curfews. Moreover, Turkey, Serbia and Montenegro have imposed heavy fines and carried out arrests due to social media posts that, according to authorities, cause panic and endanger security. Fortunately for Bulgarian citizens, the parliament upheld the president's veto on some emergency measures that were introducing increased prison sentences and fines for spreading false information about infectious diseases. 
Privacy rights in specific appear to be under attack. In Montenegro, the government has used its official website to publish and constantly update a list of names and addresses of quarantined citizens, thus violating data protection law. Health privacy data rights were also violated in Moldova when the president publicly named the first woman infected with COVID-19. Moreover, Montenegrin and Moldovan governments made public the personal health data of people infected with COVID-19. At the same time, official websites and hospital computer systems in Croatia and Romania suffered from cyber attacks. On a positive note, the Personal Data Protection Agency in Bosnia and Herzegovina issued a decision banning authorities at all levels from releasing personal information about persons who were tested positive with coronavirus, as well as of individuals who have been placed under isolation. Information about those who breach isolation measures may be lawfully published.
In the context of the global fight against COVID-19 pandemic, many countries have introduced tracking measures to combat the spread of infection, identify the movement and contact circle of infected citizens, and help citizens assess their symptoms. These measures raised a lot of concerns with regard to citizen's privacy and freedom of movement.
The Russian Prime Minister ordered the development of a tracking system for citizens who contacted a COVID-19 infected person by using their mobile phone's geolocation data. The system will then send mobile notifications asking such persons to self-isolate. This information will also be transferred to regional headquarters established to fight COVID-19 pandemic.
Furthermore, the Armenian government suggested to its citizens to use a mobile application AC19, which helps to identify if a person has COVID-19 symptoms and needs medical help. There are suspicions that the Iranian government is using the AC19 app (developed in Iran) to collect data on the movement of its citizens. The application indeed requests users' permission to see their location, however, a user can deny this request and still fill out the questionnaire. 
The Albanian government has developed an app for vehicles' self-certification to be used by citizens who have to go to work or to use their vehicles for health related emergencies. All other citizens' movements are limited from 5 am till 1 pm, while from 29 March just one family member is allowed to do essential shopping through a self-certification obtained on the e-Albania portal. Citizens without Internet access can require self-certification via SMS. 
Meanwhile, the Croatian Parliament has been discussing amendments to the Electronic Communications Act.  According to the bill, 'in extraordinary situations, the health minister would ask telecommunications companies to provide data on the locations of users' terminal equipment'. The bill has raised a number of concerns related to its potential to limit the citizens' rights to freedom of movement and privacy, without providing clear criteria for its application and sufficient safeguards. The bill was sent to the Constitutional Court to assess whether it is limiting citizens' rights.
With more and more countries declaring state of emergency in response to the new coronavirus crisis, new measures have been enforced by governments to combat disinformation and the spread of panic. National authorities (ranging from telecom regulators to police) have been empowered with new duties, including censoring any information deemed to be false or spreading panic, and imposing fines or other punitive measures on media agencies and social networks for non-compliance.
In Armenia and Moldova, media outlets are requested to publish only information cited by official sources, with Moldovan journalists being explicitly forbidden to express or facilitate any personal opinion on the COVID-19 topic.
In Romania, a new regulation allows authorities to remove the content or block entire online platforms in case no communication can be established with the platforms' owners. Nevertheless, the Ministry of Internal Affairs particularly highlighted that such measures do not apply to established media outlets, whose owners are well-known and with whom the government has a continuous dialogue. By the end of March, one platform was already blocked due to a failure to identify the owner or any other contact person.
Reportedly, in Armenia, a notable situation was created when newspapers were requested to edit their contents even when they were reporting on situations in other countries. The Yerevan Press Club expressed concern that limited information might equally cause panic among people as Armenian journalists are unsure whether they can 'publish/disseminate information that has been announced by officials of foreign countries and international organisations'. In response, the Armenian government has amended its decree and allowed media outlets to refer to foreign media outlets providing relevant citations. 
In Russia, while no new legislation was adopted, the media regulatory agency Roskomnadzor and the General Prosecutor's Office were authorised to enforce the Federal Law on Information in the new COVID-19 context. According to public reports, various Russian media outlets and international social networks (Facebook, Twitter) have already received content removal requests.
Noteworthy that the civil society organisations in all the above mentioned countries have criticized such measures, fearing serious limitations of the freedom of expression and subjective news interpretation. At the same time, the Organization for Security and Cooperation in Europe (OSCE) has explicitly criticised the new restrictive measures introduced in Armenia, Azerbaijan, Bosnia-Herzegovina and Russia. After the Armenian government amended its decree, the OSCE welcomed Armenia's speedy reaction to the raised concerns.

All stakeholders are invited to submit workshop proposals for the 15th annual meeting of the Internet Governance Forum (IGF) through the workshop application e-form. This year, the IGF agenda will be built around four priority thematic tracks: Data, Environment, Inclusion, Trust. The evaluation process will be based on six major criteria: Content, Diversity, Relevance, Interaction, Policy Questions and Format. More information about the application process and workshop manual can be found here. 
Organisations interested in arranging pre-events or 'Day 0' events are invited to submit their requests through the Day 0 application e-form.  Pre-events will be held on 2 November 2020. Slots are allocated on a first-come, first-served basis, taking into account space availability, the relevance of the requests received, regional and stakeholder balance.
During the annual IGF meeting, interested stakeholders can display or distribute relevant information about their Internet governance-related activities at the IGF Village. Booths are of limited availability. Interested organisations can apply to host a booth at the IGF Village through the IGF Village application e-form.
A limited number of eligible candidates from developing countries will be supported financially to participate at the 15h IGF annual meeting, on 2-6 November in Katowice, Poland. Interested candidates are invited to submit a Travel Support Application e-form.  
The application deadline for all the above calls is 15 April 2020, 23:59 UTC
42 Yerevan, a programming school designed to train coders of the future, is now accepting applications. The project was initiated by the EU-TUMO Convergence Center for Engineering and Applied Sciences, and is a part of a broader network of France-based School 42, joining campuses in Seoul, Helsinki, Rio de Janeiro, Moscow, and 16 other cities all around the world. Studying is completely free, and gives everyone an opportunity to access high level education irrespective of financial situation. Anyone over the age of 18 can apply to study at 42 Yerevan, with no previous knowledge in the field being required. After submitting an application, candidates should pass a logic-based test and if successful, they will be invited to the orientation meeting in April-May 2020. During the meeting, applications will be reviewed, while the students will learn more about the programme and meet the staff. During four weeks in June-August 2020, selected applicants will be invited for a trial period. The candidates who successfully complete this last stage will begin their studies in September 2020.
Free online courses and tools for remote work
Due to the COVID-19 crisis, face-to-face events that have been scheduled for the month of April across the SEE+ region have been either cancelled or postponed. We will keep you updated on all the changes in the next issues of the
SEEsummary
. Meanwhile, we offer for your attention a list of online resources that will help you to spend your time at home more productively and organise remote work for yourself or your colleagues in a more efficient way. We encourage you to share any other relevant online resources and digital tools that you are using or are aware of with the SEEDIG community by sending respective information to the mailing list:
seedig[at]rnids.rs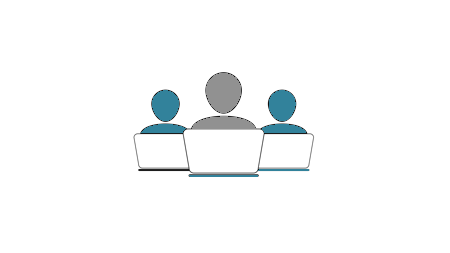 ***
Editorial note
The SEEsummary is produced on a best effort basis, by our team of volunteer editors. Each month, the editors scan local and regional media, as well as websites of public institutions and other organisations, and compile what they find to be some of the most significant digital policy developments.
The SEEsummary does not claim to be a comprehensive source of information. Despite our efforts, we may miss some things happening across the region. To help us cover as many significant developments as possible, we invite you to share with us news from your countries.