Issue no. 46 of the SEEsummary, published on 2 April 2021, by SEEDIG. This issue covers Internet governance and digital policy developments that occurred in South Eastern Europe and the neighbouring area (SEE+) in March 2021. Also included: a list of upcoming events and opportunities in April.
Country contributors to this issue: Katarina Gevorgyan, Marko Paloski, Vasile Popa, Sorina Teleanu. Editors: Grațiela Dumitrescu, Aleksandra Ivanković, Neli Odishvili. Coordination and final editing: Olga Kyryliuk. Design: Charalampos Kyritsis.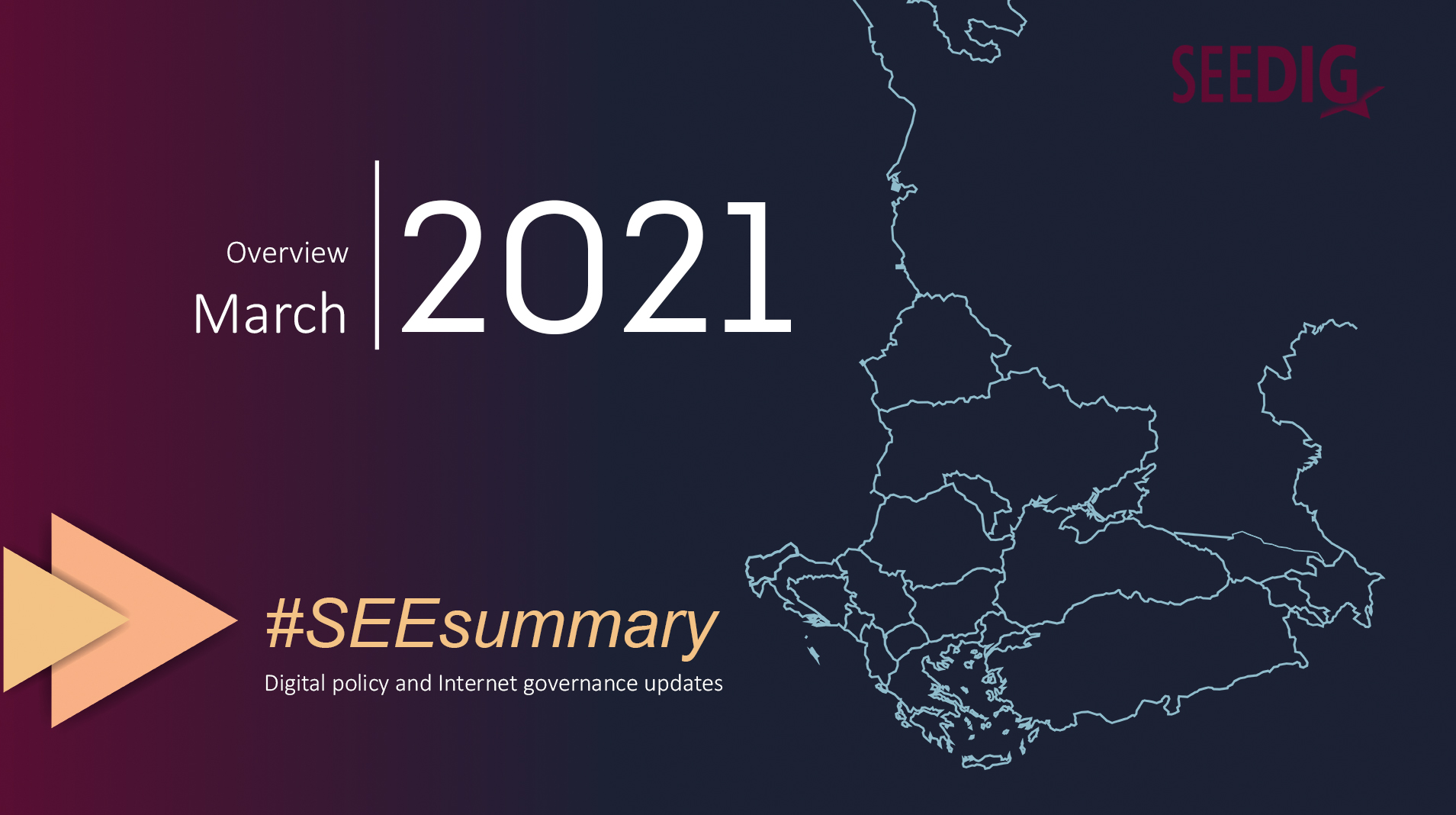 As of March 2021, Cosmote, the largest mobile network operator in Greece, provided access to 5G network to 17 more cities across the country, including Patras, Corfu and parts of southern and eastern Attica. The company targets to cover 50 percent of the population nationwide by the end of this year. It already provides 5G services to 90 percent of residents of the country's two largest cities – Athens and Thessaloniki. According to Cosmote, it invested five billion euros (6 billion dollars) in its high-speed infrastructure during the last ten years and is planning to spend another two billion euros in the next four years.
In Bulgaria, the Communication Regulation Commission (CRC) scheduled a new 5G auction on 6 April 2021. The telecommunication operators supported a decision, which was preceded by a lawsuit initiated by Bulgaria's leading telecom company Vivacom in response to the initial CRC decision to grant each of the country's three major telecom operators a licence without competition. To avoid lengthy legal proceedings that could have delayed the allocation of 5G frequencies, the regulator revised the process. The initial price of each 20 years' license is approximately USD 2.43 million.
Greece, Cyprus, and Israel signed a trilateral Memorandum of Understanding. They agreed to establish an underwater power cable in the Mediterranean seabed to create an emergency back-up power source. By 2024, the EuroAsia Interconnector project will install the 1500 kilometres' cable at 2700 metres' depth. The approximate project cost equals 760 million euros and will be partly covered by the European Union. The counterparts expect that a deal will end Cyprus energy isolation and increase usage of renewable energy sources
The government of Ukraine approved the creation of a unified state portal on digital literacy. The Ministry of Digital Transformation is responsible for launching a portal within the next six months. The related expenses will be covered from the state budget. The portal aims to increase digital literacy skills and provide digital education to individuals and legal entities in Ukraine. It organically fits into the Ministry's strategy to increase the digital literacy of six million Ukrainians by 2024. Additionally, the portal will incorporate necessary tools for the nationwide programme on school distance learning.
On 10 March 2021, the Russian Federal Service for Supervision of Communications, Information Technology and Mass Media (Roskomnadzor) slowed down Twitter speeds for failure to remove illegal content targeting minors and inciting them to suicide, drug use, and child pornography. According to the watchdog, a Twitter slowdown is implemented on all mobile Internet traffic and 50 percent of fixed broadband traffic. Reduced speeds apply to graphic, audio and video content, while text messages are not affected. The regulator warned that if Twitter continues to ignore removal requests submitted by Roskomnadzor (over 28 000 requests since 2017 with around 3100 illegal materials still available online), the social network could be blocked entirely in the country. On 23 March 2021, Roskomnadzor reported that Twitter started removing illegal content, but the removal rate is still unsatisfactory, with over two-thirds of contested materials available online.
On 19 March 2021, Twitter announced its plans to create a legal entity in Turkey to continue operating in the country. The company emphasised the importance of freedom of expression and committed to staying transparent about government and law enforcement agencies requests. In January, Turkey imposed advertising bans on Twitter, Periscope and Pinterest for failure to comply with the social media law (see SEEsummary issue no. 44). The Turkish authorities welcomed Twitter's prompt fulfilment of legal requirements and noted that Pinterest is the only social media network that still did not appoint a representative in the country.
The  Russian government submitted a bill to the parliament suggesting to create a dedicated data bank of extremist materials. Allegedly, having these data in one place would facilitate investigative actions and increase the efficiency of preventive measures aimed at combating extremist activity. The Ministry of Justice is named as a system administrator. Currently, the Ministry of Justice updates the publicly available federal register based on court decisions regarding the recognition of information materials as extremist.
In Serbia, the Regulatory Agency for Electronic Communications and Postal Services (RATEL) launched an interactive web portal with time-referenced maps that allow users to check the mobile network coverage across the country, by technology and operator and at a specific location. The web portal is based on an outdoor signal prediction and includes information about the territory and population coverage by technology, wireless access network elements, active base stations, and repeaters. Operators periodically submit to RATEL specific data sets that are used for coverage predictions. Availability of such information in free access helps users to make an informed choice of operator and promotes sound competition.
In March, five international companies named data protection representatives in Serbia. Developer Proxima Beta and social media platform WeChat notified the Commissioner for Information of Public Importance and Personal Data Protection of their decision to appoint Karanović & Partners law firm. The e-commerce solutions provider CorvusInfo d.o.o selected lawyer Nataša Pepić. Law firm Moravčević, Vojnović and Partners is the data protection representative for the hardware and electronics corporation Acer Sales International SA, while lawyer Igor B. Denčić represents Wizz Air Hungary Airlines Limited. Once again, the Commissioner invited foreign companies to comply with the country's Data Protection Law and name representatives. You can read more about international companies' compliance with the Serbian Data Protection Law in the previous issues of the SEEsummary.
The president of Russia signed a federal law that introduces fines for failure to comply with the legal requirement to pre-install domestic software on smartphones, tablets, computers and smart TV. The government will determine a complete list of devices and local software. The Russian Federal Service for Surveillance on Consumer Rights Protection and Human Wellbeing (Rospotrebnadzor) is in charge of imposing fines that vary between 30 000 – 50 000 rubles (approx. 340 – 560 euros) for officials and 50 000 – 200 000 rubles (approx. 560 – 2500 euros) for legal entities. The law enters into force on 1 July 2021 and raises concerns about potential technical incompatibility, distorted competition and state surveillance. Additionally, in mid-March, the Ministry of Digital Development, Communications and Mass Communications released clarifications addressed to electronics manufacturers on how to pre-install Russian software.
The Internet Society invites the Early Career Fellowship applications from early career professionals working in the Internet ecosystem in a technical, policy, economic, or social capacity. Eligible candidates should have an undergraduate/vocational degree and at least two years of work or experience in an Internet-related field or at least four years of working experience in an Internet-related field, draft an exciting project proposal for growing or strengthening the Internet, have reliable access to a broadband Internet connection and relevant device, be available to participate in the entire programme and be proficient in verbal and written English. The call is open until 11 April 2021.
The Internet Society accepts nominations for the Internet Hall of Fame to recognise individuals who made significant contributions to the development and advancement of the Internet. The nominations should reflect on four criteria: impact (extraordinary impact on the development or growth of the Internet), influence (influenced work of others in the field, society, and critical audience or a region), innovation (opened new ground with original thinking) and reach (significant impact on the Internet's reach among society at large). All nominations should be submitted via a dedicated nomination form and include three endorsement letters. The deadline for submitting nominations is 23 April 2021.
Editorial note
The SEEsummary is produced on a best effort basis, by our team of volunteer editors and contributors. Each month, the editors scan local and regional media, as well as websites of public institutions and other organisations, and compile what they find to be some of the most significant digital policy developments.
The SEEsummary does not claim to be a comprehensive source of information. Despite our efforts, we may miss some things happening across the region. To help us cover as many significant developments as possible, we invite you to share with us news from your countries.