Issue no. 31 of the SEEsummary, published on 1 October 2019, by SEEDIG, in collaboration with DiploFoundation and the Geneva Internet Platform. This issue covers Internet governance and digital policy developments that occurred in South Eastern Europe and the neighbouring area in September 2019. Also included: a list of upcoming events (October 2019) and an overview of upcoming capacity development opportunities for SEE+ stakeholders.
Contributors to this issue: Tamar Abzianidze, Maja Ćalović, Katarine Gevorgyan, Aleksandra Ivanković, Ana Jovanović, Olga Kyryliuk, Liljana Pecova Ilieska, Oliana Sula, Veronica Ștefan, Sorina Teleanu.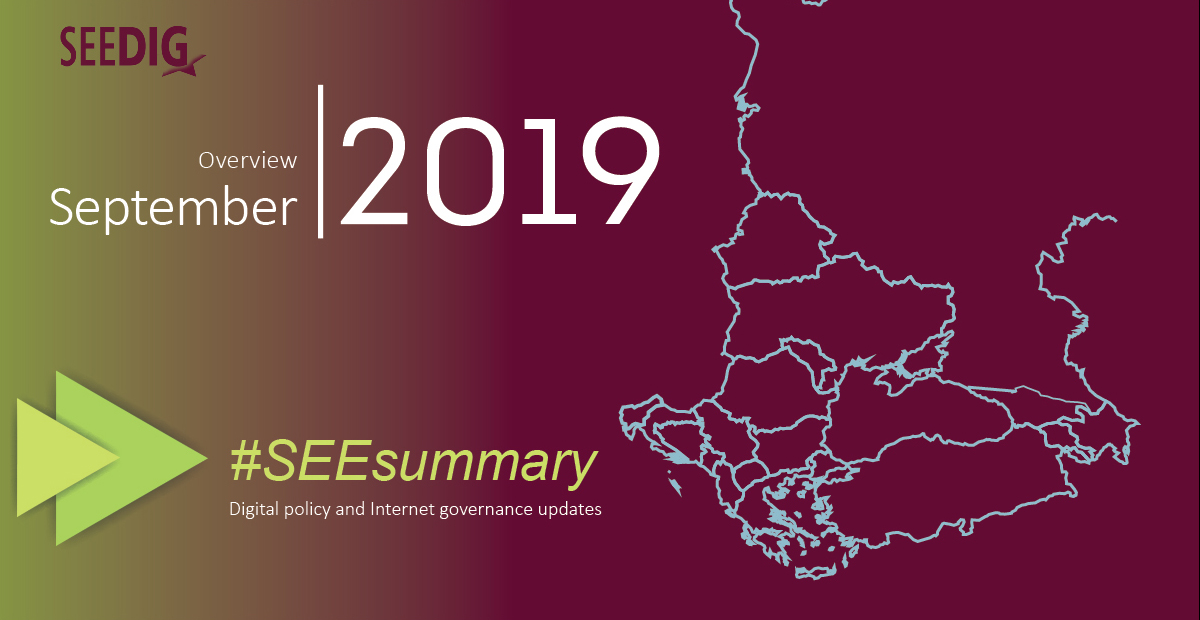 The Faculty of Electrical Engineering and Computing (FER) of the University of Zagreb has announced the establishment of the first artificial intelligence (AI) centre in Croatia. The centre will share knowledge and provide support to all who find AI-related topics to be important, in line with recommendations on the development and application of AI adopted earlier this year by the Croatian Academy of Sciences and Arts (HAZU). One of its missions is to educate the general public about the possibilities of applying AI for social good.
Master 4.0, an initiative consisting of four interdisciplinary university programmes covering ICT-related topics, was presented to the government of Serbia. Developed by several Serbian faculties in cooperation with the private sector, the four programmes are designed to equip students with the knowledge and skills required by the ICT industry. As such, the programmes will focus not only on ICT knowledge, but also on areas such as business skills, economics, finance, and law. Specific fields of study will include, among others, data analytics, bioinformatics, Internet of Things, machine learning, artificial intelligence, virtual reality, as well as business subjects such as management, finance and accounting, marketing and entrepreneurship. Master 4.0 is expected to be implemented at 13 faculties in Belgrade, Kragujevac and Niš, which have already started the accreditation process for the four programmes.
Starting in September 2019, Georgian schools are offering a new course on 'media economy' to 10-15 year old students. The course is dedicated to raising children's awareness about media literacy and the principles behind the functioning of social media networks. Economic and financial aspects of social media will be covered in the course, and students will learn about the financial model of platforms such as Facebook, YouTube and Wikipedia, how users data are collected and monetised, and how the users themselves contribute to the financing of such platforms. The course will also cover issues related to privacy and data protection, cyberbullying, how to spot online misinformation and disinformation, and how to avoid online threats when using social media. The initiative is run in cooperation with the Georgian National Communications Commission and is based on a programme run by the Evens Foundation in several EU member states.
The third edition of the Armenian School on Internet Governance (ArmSIG) was held in Yerevan on 11–13 September 2019, and was organised and hosted by Internet Society of Armenia and ISOC Armenia Chapter. Twenty participants selected from different stakeholder groups came to learn about the Internet and related policy issues from local and international experts. Domain name regulations, cyber hygiene and cybersecurity, human rights in the digital era and personal data protection, copyright issues, media literacy, and organisations in the Internet governance ecosystem were the main topics addressed. Participants were awarded certificates.
Four of the biggest e-commerce platforms in Europe – eMAG (Romania), Cdiscount (France), ePrice (Italy) and Real.de (Germany) – which are hosting about 30 000 online sellers, co-founded the International Marketplace Network (IMN), a platform that offers access to a market of over 230 million potential clients. The IMN favours the development of the digital single market and offers an interface that connects the four marketplace platforms, which sellers can use as a single point of work to synchronise their offers on each of the four platforms. IMN is presented as a fast way for sellers to expand their business in Europe at no additional cost. By joining this initiative, the Romanian eMAG continues its efforts to develop projects that bring added value to national sellers and consolidate its e-commerce ecosystem. For customers, IMN is a way to access a much wider range of products and services located in the country of origin, at competitive prices. The IMN platform will initially run in a beta version, but will be developed in the following months and more marketplace platforms and sellers are expected to join.
The Romanian National Bank has launched the Fintech Innovation Hub, a platform aimed at facilitating a direct dialogue with the FinTech sector and offering an institutional framework for promoting the most innovative projects, while also monitoring them to ensure that they respect security standards. The initiative is focused on supporting innovation in payments and financial services, in a controlled manner and for the benefit of consumers, at the same time seeking to identify potential risks and solutions to manage them. Selected companies will have access to information and guidance offered by the central bank, related to the compliance of their FinTech products and services with the legal provisions, and the overall legal framework concerning the authorisation and/or registration of specific products and services. Interested companies and startups which offer innovative but sufficiently mature FinTech products and services can apply at all times through a basic registration form, their applications being reviewed on a rolling basis.
The Serbian Regulatory Agency for Electronic Communication (RATEL) has launched a new portal, Ceneusluga.rs. This portal provides information on multiple electronic communications services provided by operators, including landline and mobile telephones, Internet and television. Consumers can use the portal to search and compare services in the same category according to different criteria such as price, number of minutes, the speed of data transfer, TV channels, etc.
On 6 September 2019, the Permanent Representative of Greece to the Council of Europe, Ambassador Panayiotis Beglitis signed the Protocol amending Convention 108 for the protection of individuals with regard to the processing of personal data. The updated convention, colloquially referred to as the Convention 108+, was passed in May 2018 with the aim to better address emerging privacy challenges related to use of new information and communication technologies and to strengthen the implementation of the Convention adopted in 1981. Changes introduced in 2018 include new obligations for data controllers (e.g. guaranteeing the transparency of data processing and notifying security breaches) and rights for data subjects (e.g. the right to obtain knowledge of the reasoning underlying the data procession, and the right not to be subject to a decision which is based solely on an automated processing, without the data subject having her/his views taken into consideration). So far the protocol has been signed by 32 countries, including Greece.
The Communications Regulatory Agency of Bosnia and Herzegovina (RAK) has issued a reminder on the expiration of the deadline imposed on telecommunication operators regarding the implementation of the obligations related to legal interception. The operators that will fail to comply by 11 November 2019 may have their services terminated. Upon notification from the Joint Committee on Legal Interception and Manner of Performing Activities, RAK will impose executive measures against all providers of electronic communications networks and services that do not comply with the legal requirements. Such executive measures will take the form of fines and the obligatory termination of the provision of services until the prescribed conditions of legal interception are fulfilled. The Agency appeals to the operators to comply with the legal requirements and urges end users to contact their operators to find out whether they have fulfilled their obligations by the indicated deadline.
The Russian Federal Service for Supervision of Communications, Information technology, and Mass Media (Roskomnadzor) claims that Google and Facebook distributed political advertising during the election silence on 7 and 8 September 2019 (in the context of local and regional elections held in the country), even though they had been previously asked to obey electoral legislation. 'Such actions can be considered as interference in Russia's sovereign affairs and hindering the conduct of democratic elections in the Russian Federation', the watchdog published on its website. The  two tech companies have neither confirmed nor denied the claims. Google stated its support for responsible political advertising, in line with local legislation. Facebook said it is not on them to comply with local election laws but on advertisers.
According to the President of Turkish Radio and Television Supreme Council (RTÜK) Mr Ebubekir Şahin, US online streaming service Netflix has applied for a license to continue operating in Turkey under a new regulation which came into force last month. Additionally, Şahin posted on Twitter that over 600 institutions had submitted applications for licenses by the beginning of September. The new regulation gave RTÜK the authority to license and monitor all online content providers which broadcast in Turkey. These providers are obliged to obtain a license and to follow RTÜK guidelines. The same rules apply to foreign companies which have to establish a legal presence in Turkey to get a licence. Many have criticised the regulation as it could lead to media censorship, but Turkish officials claim that the rules are necessary for 'the protection of national security and moral inside the country'. Netflix has so far declined to comment on this issue.
***
Editorial note
The SEEsummary is produced on a best effort basis, by our team of volunteer editors. Each month, the editors scan local and regional media, as well as websites of public institutions and other organisations, and compile what they find to be some of the most significant digital policy developments.
The SEEsummary does not claim to be a comprehensive source of information. Despite our efforts, we may miss some things happening across the region. To help us cover as many significant developments as possible, we invite you to share with us news from your countries.