Issue no. 37 of the SEEsummary, published on 1 May 2020.This issue covers Internet governance and digital policy developments that occurred in South Eastern Europe and the neighbouring area (SEE+) in April 2020. Also included: a list of free online courses and tools for remote work, and an overview of upcoming capacity development and other opportunities for SEE+ stakeholders.
Contributors to this issue: Meri Baghdasaryan, Maja Ćalović, Grațiela Dumitrescu, Katarina Gevorgyan, Aleksandra Ivanković, Ana Jovanović, Olga Kyryliuk, Neli Odishvili, Marko Paloski, Vasile Popa, Mariam Tsiklauri. Coordination: Olga Kyryliuk. Design : Charalampos Kyritsis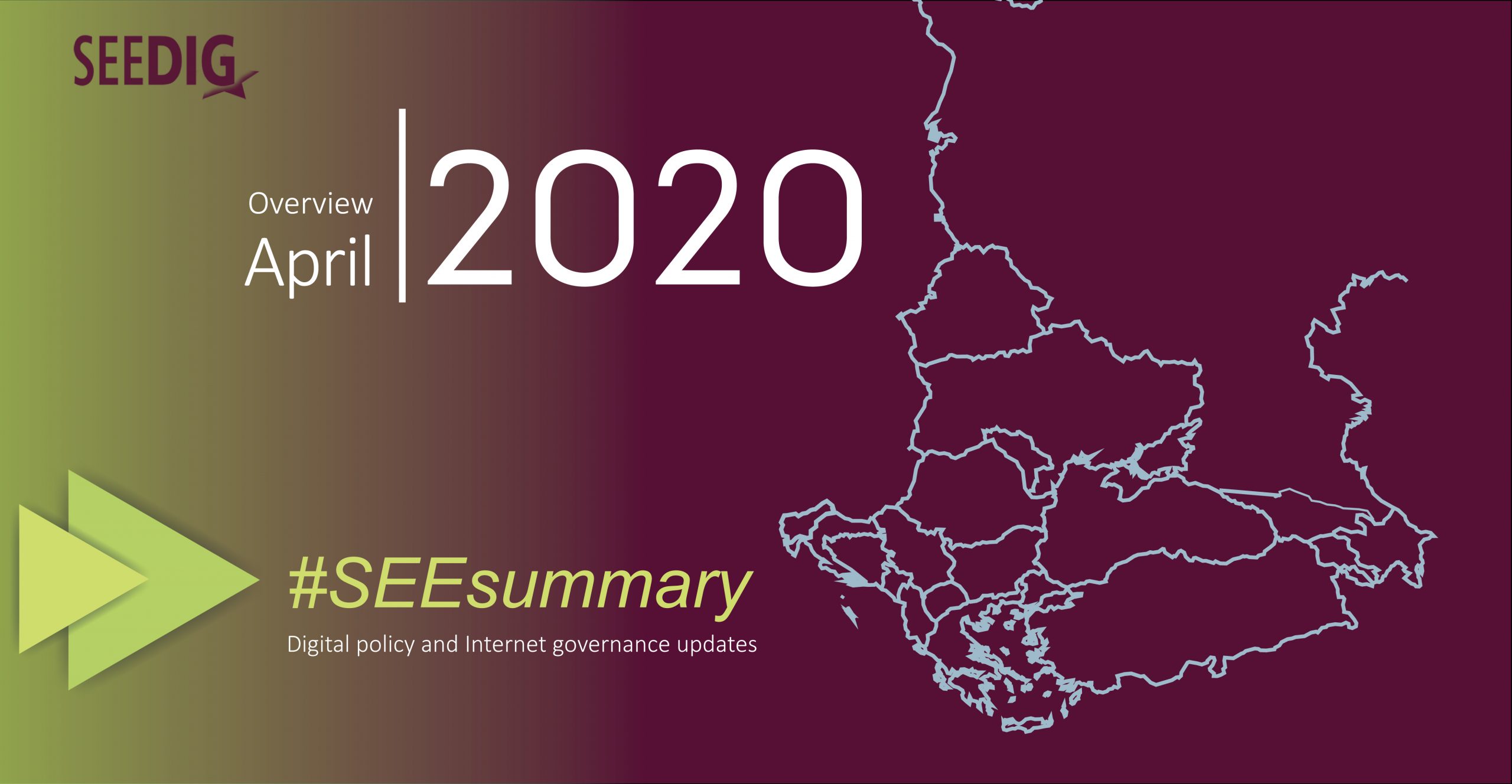 The
Azerbaijani
Parliament
approved
an interstate agreement with Turkmenistan, signed in November 2019, on the deployment of an undersea Internet backbone line across the Caspian Sea. The project will be implemented by telecom companies AzerTelecom and Turkmentelecom. The cable will be laid along a 300 km route and send data from European Internet centers through Azerbaijan to Turkmenistan, Uzbekistan, Afghanistan, Pakistan, and India, with the minimum capacity of 2-4 terabits per second. Similar project on the deployment of a 400 km Trans-Caspian Fiber Optic cable line will be implemented between Azerbaijan and Kazakhstan.
The Parliament of
Ukraine
adopted
in the first reading amendments to the Criminal Code increasing liability for willful damage of telecom networks and equipment. Minor damages, not resulting in disruption of service provision, will lead to fines from EUR 58 to EUR 116. If service disruption took place, the guilty persons can be fined up to EUR 1 740 or imprisoned for up to three years. Repetitive violation might lead to imprisonment for up to six years. At the same time, disruption of service provision to critical infrastructures is classified as the harshest violation, resulting in six to ten years in jail and accompanied with property confiscation. Theft and willful damage of telecom equipment are quite widespread in Ukraine, with over 122 000 cases reported over the last four years. Experts explain such high indicators by the incompatibility between severe consequences and small fines prescribed by legislation currently in force. The bill is
pending
its final voting and has high chances to be adopted.
Tech company Grin IT, a resident of the Belarus Hi-Tech Park, developed a free online platform helping users to identify their risks of getting infected with COVID-19 by conducting online diagnosis of symptoms and providing recommendations as to further steps (which, however, should not be considered as the final medical conclusion). The main goal of the project is to provide a comfortable service to users to monitor their own health and to decrease the pressure on the healthcare system. The service allows users to monitor the development of their symptoms over time. 
Meanwhile, Croatia introduced a WhatsApp chatbot Andrija designed to educate citizens on the identification of COVID-19 symptoms and to connect them to relevant authorities and institutions, thus reducing the pressure on the healthcare system. Andrija, named after the Croatian physician and social medicine scholar Andrija Štampar, was donated by the Croatian AI Association and is available to all Croatian citizens free of charge.
Ukrainian tech company Fulcrum developed a neural network able to identify people without medical masks in the crowd by analysing recordings from the web cameras. The network was trained for two weeks to recognise the mask on the human's face.

The Bulgarian and Serbian prosecutor's offices with the support of the European Union Agency for Criminal Justice Cooperation (Eurojust) and Europol participated in an international  investigation operation in a case of illegal cyber trading. During the operation, five suspects, out of whom two leaders of a criminal network, were arrested in Bulgaria. Another five suspects were arrested by the Serbian authorities, which additionally searched nine places, seized five apartments, three cars, a large amount of cash, IT equipment, as well as placed over 30 bank accounts under surveillance. The fraud scheme was based on persuading thousands of victims across Europe to invest in non-existent financial products by registering on unlicensed online trading platforms for an EUR 250 fee. Once registered, the victims were contacted by designated agents offering even higher profits for a transfer of money to various accounts or release of extra debit amounts from their credit cards. After the simulation of the alleged trading of financial products, the money was distributed among the criminals in charge of the money laundering scheme.
The Ministry of Education, Culture and Research of Moldova in partnership with telecom provider Orange Moldova and in collaboration with the University Information Centre launched a national campaign 'Connect teachers' aimed at ensuring the continuity of the distance education process. During the campaign, Orange Moldova will provide teachers in all primary schools, gymnasiums and high schools, both public and private, with free 50 GB of mobile Internet traffic. Between 3 and 15 April, school administrations were invited to submit lists of teachers who have restricted access to the Internet and could benefit from participation in the campaign. After verification of the lists, the mobile Internet traffic has been allocated on 22 April and will remain valid for two months.
Telecom provider Ucom in cooperation with the Ministry of Education, Science, Culture and Sport of Armenia promotes distance learning by offering a free usage of a number of websites and applications (Zoom, Skype, Viber, WhatsApp, www.armedu.am, etwinning.net, etc.) without payment for the consumed traffic until the end of May 2020. The campaign is part of the company's social responsibility activities and is aimed at supporting Armenians in their efforts to continue education online and to stay connected with their loved ones during the COVID-19 pandemic.
Telecom provider Telenor Bulgaria offers a series of free educational videos on Internet safety addressing some of the most common online risks and prevention methods, in particular ways of protecting personal data, identifying and protecting from fake online profiles, spotting fake news and preventing cyberbullying. The videos were created together with the Bulgarian Safer Internet Centre and are available at a dedicated website.

The National Children's Technopark in Belarus is designed as a single space providing opportunities for studying, working and sophisticating technical skills. Educational programmes will be available as full-time and distance learning. Technopark will unite students from 6 to 11 grades, with each group comprising seven to ten students. The onsite course will last up to 21 days and will be followed by individual work conducted by students with support from technopark staff through digital technologies. The reconstruction of the educational and laboratory facilities has already started. Additionally, it is planned to construct a secondary school with a capacity for 750 students and a dormitory for 300 residents. The technopark will open in Minsk by the beginning of 2021. It is expected that such innovative training will motivate students to choose their future profession in the field of science and high technology.
The House of Europe, funded by the European Union, is accepting applications for digital cooperation grants aimed to support collaborative cultural projects of Ukrainian and European organisations created for the digital space, for instance digital and social media arts, cloud-working, digital learning, institutional digitalisation, online exhibitions, concerts, and conferences. Digital cooperation grants aim to strengthen ties between creative and IT industries in Ukraine, the EU, and the UK, and encourage new forms of professional exchange and creativity. The best idea will win EUR 25 000. State and public non-profit organisations working in the field of culture and creative industries are invited to apply by submitting an innovative idea of a digital cooperation project,  a signed memorandum with a partnering organisation,
CyberEDU beta is an online platform providing over 100 exercises used in international cybersecurity competitions for those interested in improving their offensive and defensive skills in real life hacking scenarios with different levels of difficulty. In a dedicated environment infosec enthusiasts learn how to spot vulnerabilities and react accordingly. Challenges cover skills level from beginner to professional and include a variety of web and network applications.
The Council of Europe Cybercrime Programme Office, together with partners, continues to support criminal justice authorities worldwide in their cooperation efforts against cybercrime through a series of webinars. Some webinars are open to the public at-large, while others are designed specifically for law enforcement authorities or specific regions of the world. New webinars will be announced and registration will be available on a dedicated page of the Council of Europe. Check it to get regular updates.
Free online courses and tools for remote work
Due to the COVID-19 crisis, face-to-face events that have been scheduled for the month of May across the SEE+ region have been either cancelled or postponed. We will keep you updated on all the changes in the next issues of the SEEsummary. Meanwhile, we continue listing online resources that could help you to spend your time at home more productively and organise remote work for yourself or your colleagues in a more efficient way.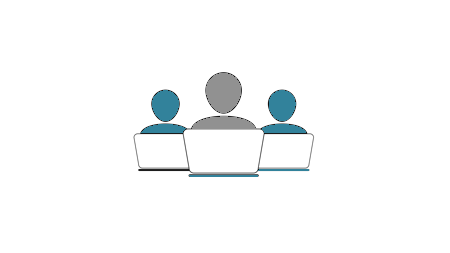 We encourage you to share any other relevant online resources and digital tools that you are using or are aware of with the SEEDIG community by sending respective information to the mailing list: seedig[at]rnids.rs
***
Editorial note
The SEEsummary is produced on a best effort basis, by our team of volunteer editors. Each month, the editors scan local and regional media, as well as websites of public institutions and other organisations, and compile what they find to be some of the most significant digital policy developments.
The SEEsummary does not claim to be a comprehensive source of information. Despite our efforts, we may miss some things happening across the region. To help us cover as many significant developments as possible, we invite you to share with us news from your countries.