Issue no. 48 of the SEEsummary, published on 5 June 2021, by SEEDIG. This issue covers Internet governance and digital policy developments that occurred in South Eastern Europe and the neighbouring area (SEE+) in May 2021. Also included: a list of upcoming events and opportunities in June.
Country contributors to this issue: Katarina Gevorgyan, Vasile Popa. Editors: Meri Baghdasaryan, Grațiela Dumitrescu, Maja Ćalović. Coordination and final editing: Olga Kyryliuk. Design: Charalampos Kyritsis.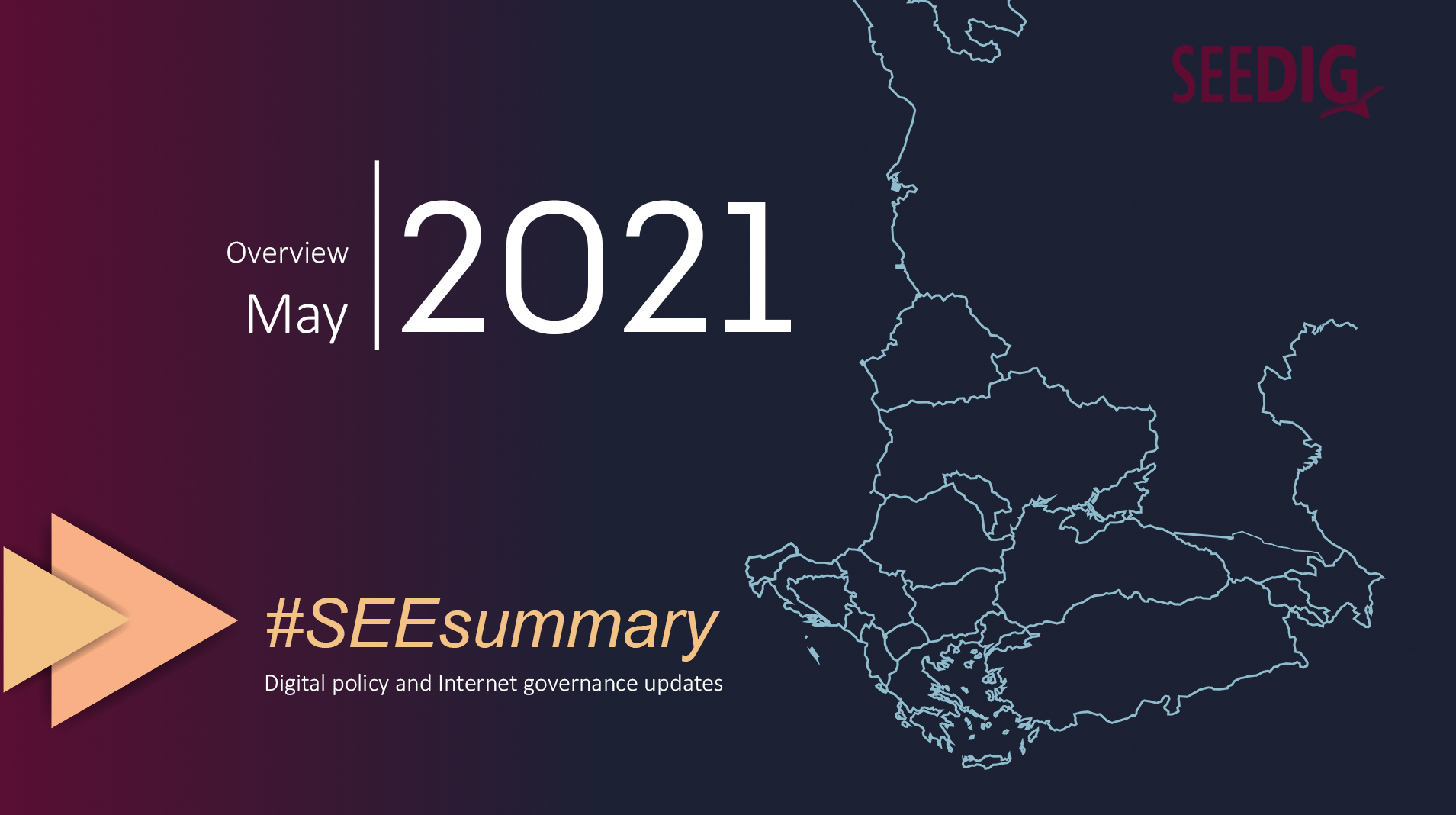 The Russian parliament adopted a bill imposing administrative fines on public officials and legal entities for violating the safety requirements of critical information infrastructure and providing untimely notification to state agencies in charge of cyberattacks liquidation. Moreover, the bill stipulates liability for violating the order of information exchanges on cyber incidents between the institutions in charge of infrastructure and authorised agencies of foreign states and international governmental and non-governmental organisations. The administrative investigation might be opened if the case requires a detailed examination or other
The Croatian Network Regulatory Agency (HAKOM) announced a public auction to allocate the RF spectrum for 5G mobile communications networks in Croatia. The auction will be held entirely through an electronic bidding system and combine four separate procedures for the different frequency bands (700 MHz, 3600 MHz, 26 GHz and 3600 MHz regionally). Licenses will be issued for 15 years and might be extended for a maximum of five years. Applications for participation are accepted from 27 May to 11 June 2021. The main stages of the bidding will begin on 12 July 2021. It is expected that the decision on the award will be made by the end of August.
In its recently released April 2021 coordinated inauthentic behaviour (CIB) report, Facebook announced the removal of 124 Facebook accounts, 15 pages, six groups and 30 Instagram accounts that primarily targeted Azerbaijan and to a much lesser extent Armenia. The investigation revealed a connection to individuals associated with the Defense Ministry of Azerbaijan. Moreover, Facebook removed 105 accounts, 24 pages and five Instagram accounts that originated in and targeted Ukraine and had links to the presidential political party Servant of the People. In addition, the company removed a few hundred pages and accounts for CIB attributed to entities and individuals sanctioned by the US Treasury Department.
The Russian communications authority Roskomnadzor partially lifted sanctions imposed on Twitter in the form of service slowdown. Allegedly, the company removed a large part of the content that was deemed illegal, such as child exploitation materials, drug abuse information and promotion of suicide or self-harm. The punitive measure came after the company did not comply with the local regulation requiring immediate removal of offensive or sensitive material. Check the SEESummary issue no. 47 for background information. Facebook and Youtube are continuously called upon to follow Twitter's example and delete illegal materials under a threat of sanctions.
Belarusian authorities blocked independent online outlet TUT.by and its email system mail.tut.by allegedly for tax evasion and publishing information deemed illegal according to local media legislation, particularly for covering organisations without local registration in Belarus. The blocking was accompanied by the employees' questioning, searching their homes and office, and seizing journalists' electronic devices. According to human rights activists, the portal was blocked due to its active position and critical reporting during the protests following the presidential elections. The TUT.by mirror website and Telegram channel remain operational.
The Russian Ministry of Interior declared the success of its serial cybercrime identification program called "Remote Fraud", which after a year of its rollout, allowed to detect over 324 000 essential elements of fraudulent cybercrimes. The program facilitates the investigation by processing and analysing data collected when crimes are just registered and recorded. Additionally, the Ministry of Digital Development, Communications and Mass Media tested a remote electronic voting system in preparation for the upcoming elections to legislative bodies that will take place on 19 September 2021. Citizens who applied beforehand participated in the testing and could leave feedback and suggestions for improvement on a dedicated web platform.
The Greek Ministry of Interior announced the launch of a new online platform that permits citizens to make online appointments at governmental agencies. The platform facilitates the provision of time-efficient services and serves as an information portal allowing individuals to know in advance what documents are needed to receive specific services. Currently, the platform is available only for the Special Registry Office. However, the Ministry plans to cover other public services gradually.
The Ministry of Education and Science of Ukraine launched a mobile application for the All-Ukrainian Online School platform. An app is a full-fledged tool for convenient learning from mobile devices. It provides access to all learning courses and teaching materials and allows communication among students from 5 to 11 grade. The application is already available for the Android operating system, used by over 80 percent of students, and will soon be released for iOS users. Mobile operators lifecell, Vodafone and Kyivstar provide free access to the mobile Internet for app users.
As of 12 May 2021, Serbian citizens are able to obtain the so-called digital green certificate, which serves as a unified official confirmation of vaccination against COVID-19 or negative testing results. It has a qualified electronic stamp and allegedly cannot be falsified or abused. In addition to personal information, such as first and last name, ID number and gender, the certificate contains data on the vaccination date and the number of received doses, as well as the results of various tests for the virus, including PCR, antigen and serological test. Around 40 000 foreign nationals vaccinated in Serbia will also be able to get the certificate through Serbia's e-government portal.
The Physics Department of Yerevan State University in Armenia announced its plans to launch a program on data processing in physics and artificial intelligence. Over 20 students will be enrolled for the first time during the next academic year. The Department already agreed with private IT companies to host students for paid internships and further engage as potential employers. Lecturers from both Armenia and abroad, including Department alumni, will teach courses on neural systems, artificial intelligence, data processing and database management.
In May, the European Parliament adopted the legislation authorising the establishment of the new EU cybersecurity competence centre and network in Bucharest, Romania. The EU member states took the initial decision to proceed with creating the centre last year (check the SEESummary issue no. 44). The centre will finance research projects through the Horizon Europe and Digital Europe programs under the 2021-2027 multiannual financial framework. It aims to stimulate innovation among small businesses and start-ups and increase Europe's resiliency against cyber threats.
Editorial note
The SEEsummary is produced on a best effort basis, by our team of volunteer editors and contributors. Each month, the editors scan local and regional media, as well as websites of public institutions and other organisations, and compile what they find to be some of the most significant digital policy developments.
The SEEsummary does not claim to be a comprehensive source of information. Despite our efforts, we may miss some things happening across the region. To help us cover as many significant developments as possible, we invite you to share with us news from your countries.